Children Of The Corn Collection (3 Discs) (UK)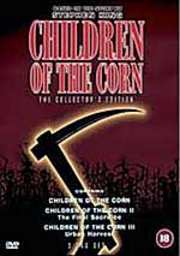 An adult nightmare
Certificate: 18
Running Time: 266 mins
Retail Price: £24.99
Release Date:
Content Type: Movie
Synopsis:
Children Of The Corn
In the drought-striken prairie lands of Nebraska the corn crop has failed. Nothing thrives in the arid soil and the people pray for rain. Into the small community of Gatlin comes a sinister boy preacher with a message for the children - only human blood will restore life to the parched earth and revive the dying corn. So it is that all the adults perish one hot Sunday, as their sons and daughters obey the savage commands of Isaac and his bloodthirsty executioner, Malachai...

Children Of the Corn 2
In Children Of The Corn, a young couple uncovered the horrors that lay hidden in the small community of Gatlin, Nebraska. Three years earlier, all the adults suffered a terrible fate at the hands of their own sons and daughters - victims of a bloody cult of human sacrifice. Now, the bodies have been discovered and the neighbouring townsfolk of Hemingford agree to shelter the traumatised children... unaware that they are opening their doors to an awesome force that will threaten their very existence...

Children Of The Corn 3 - Urban Harvest
After the brutal and mysterious killing of a farmer in an isolated cornfield in the wilds of Nebraska, fate casts two young brothers, Eli and Joshua, into the heart of Chicago. They are welcomed with open arms by foster parents who are unaware of the dark and menacing force that lurks within one of the boys. For Eli is the emissary of evil - a demonic disciple with the power to capture the minds and souls of other children. He knows the city streets and school yards are the perfect place to sow the seeds of his bloody ancestry...
Special Features:
Theatrical trailers

Audio Tracks:
Dolby Digital Stereo 2.0 English

Directed By:
Fritz Kiersch

Written By:
Stephen King
George Goldsmith

Starring:
John Franklin
Linda Hamilton
Courtney Gains
R.G. Armstrong
Peter Horton

Soundtrack By:
Jonathan Elias

Director of Photography:
Raoul Lomas

Editor:
Harry Keramidas

Costume Designer:
Barbara Scott

Production Designer:
Craig Stearns

Producer:
Terence Kirby
Donald P. Borchers
Mark Lipson

Executive Producer:
Earl A. Glick

Distributor:
Cinema Club