Stargate SG1: Best of Season One, Two Disk Set (UK)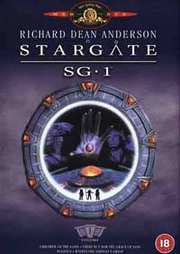 The best of season one
Certificate: 18
Running Time: 220 mins
Retail Price: £19.99
Release Date:
Content Type: TV Series
Synopsis:
Featuring the very best of Season One, these four episodes including the action-packed feature-length sequal to the blockbuster movie, introduce us to the Stargate SG-1 team as the continue the quest to discover new worlds one year after the original mission.

CHILDREN OF THE GODS - THE NEXT MISSION

The new SG-1 team`s task is to access the danger which the Abydos Aliens pose to Earth, having recently reactivated the Stargate. Their journey revels many more Stargates dotted round the galaxy, and a new enemy on the planet Chulak....

THERE BUT FOR THE GRACE OF GOD

A mysterious mirror transports Jackson to another dimension. Suddenly he finds on an alternate Earth that is under attack from the Goa`uld. Danniel forsees that the same cruel fate awaits his Earth. Can he return to his dimension and save the world?

POLITICS

Only Jackson knows of the Goa`uld plans to invade Earth. But on-one take his warnings seriously - in fact, this time the authorities have chosen to terminate the costly Stargate programme and close the gate forever....

WITHIN THE SERPENT`S GRASP

To stop the Goa`uld invasion, the SG-1 team disobey orders and transport themselves to the Goa`uld attack headquarters. Landing amidst preparations for an all-out strike on Earth, the way home is blocked. Can the team avert disaster and save humanity?
Special Features:
Interactive Menus
Scene Access

Video Tracks:
Widescreen Anamorphic 1.78:1

Audio Tracks:
Dolby Digital Surround 2.0 English

Subtitle Tracks:
CC: German
CC: English
Dutch

Directed By:
Mario Azzopardi

Starring:
Don S. Davis
Christopher Judge
Amanda Tapping
Michael Shanks
Richard Dean Anderson

Casting By:
Paul Weber
Mary Jo Slater
Robin Nassif

Soundtrack By:
Tim Truman
Kevin Kiner
Joel Goldsmith
David Arnold

Director of Photography:
Peter F. Woeste

Editor:
Charles Robichaud
Allan Lee
James Ilecic
Daria Ellerman
Richard Benwick

Costume Designer:
Christina McQuarrie

Production Designer:
Richard Hudolin

Producer:
N. John Smith
John G. Lenic
Ron French
Robert C. Cooper

Executive Producer:
Brad Wright
Michael Greenburg
Jonathan Glassner
Richard Dean Anderson

Distributor:
Metro Goldwyn Mayer