Hudson Hawk (UK)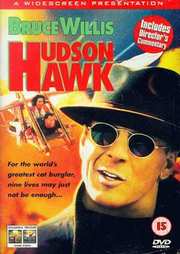 Catch The Excitement. Catch The Adventure. Catch The Hawk
Certificate: 15
Running Time: 96 mins
Retail Price: £19.99
Release Date:
Content Type: Movie
Synopsis:
Bruce Willis is Eddie "The Hawk" Hawkins, the world`s most famous cat burglar who, after 10 years in prison, is ready to go straight. But it`s not going to be easy for the Hawk.

The mob and the CIA have conspired to blackmail Eddie and his partner (Danny Aiello) into stealing three da Vinci masterpieces from the most heavily-guarded museums in the world. Sounds simple, right? Wrong!

While trying to steal the goods, Hawk falls in love with a beautiful but schizophrenic nun (Andie MacDowell) and is relentlessly pursued by the greedy and powerful Minerva and Darwin Mayflower (Sandra Bernhard and Richard E. Grant), who want the artworks as part of their twisted plot to ruin the world`s economy.

It`s wall-to-wall action as the wisecracking Hawk saves the world, wins the girl and gets the last laugh!
Special Features:
Director`s Commentary

Video Tracks:
Widescreen Anamorphic 1.85:1

Audio Tracks:
Dolby Digital Stereo 2.0 English

Directed By:
Michael Lehmann

Written By:
Steven E. de Souza
Bruce Willis
Daniel Waters
Robert Kraft

Starring:
Richard E. Grant
Andie MacDowell
Bruce Willis
James Coburn
Danny Aiello

Casting By:
Jackie Burch

Soundtrack By:
Harry M. Woods
Bruce Willis
Jimmy Van Heusen
C. Marak
Jay Livingston
L. Laprise
Robert Kraft
Michael Kamen
Bob Gaudio
John Garrett III
Ray Evans
Bob Crewe
Lincoln Chase
Toni C.
Yamma Brown
Deanna Brown
Johnny Barker
Deidra Brown
Benito Benitez

Director of Photography:
Dante Spinotti

Editor:
Michael Tronick
Chris Lebenzon

Costume Designer:
Marilyn Vance

Production Designer:
Jackson De Govia

Producer:
Suzanne Todd
David Willis
Joel Silver
Michael Dryhurst

Executive Producer:
Robert Kraft

Distributor:
TriStar Pictures