Kiss Of The Dragon (UK)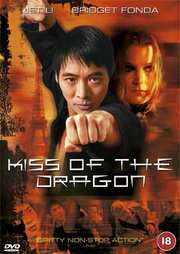 Kiss Fear Goodbye
Certificate: 18
Running Time: 94 mins
Retail Price: £17.99
Release Date:
Content Type: Movie
Synopsis:
Written by, and starring action superstar Jet Li (The One, Romeo Must Die) as China`s top government agent Liu Jiuan, who heads off to Paris from Shanghai to assist a corrupt French police inspector called Richard (Tchéky Karyo - The Patriot). When a sensitive, top-secret mission to uncover an international drug conspiracy goes horribly wrong, Liu finds himself accused of murder and on the run in Paris.
Trapped in a vast and deadly conspiracy and accused of a murder he didn`t commit, Liu is thrown together with Jessica (Bridget Fonda - Jackie Brown), an American woman forced into prostitution by Richard. Liu finds himself lost in a physical and moral landscape he can`t comprehend, and despite all his training and learning, he makes a promise to Jessica that could cost him his career - and both their lives.

With stunts reminiscent of The Matrix and Crouching Tiger, Hidden Dragon, Kiss of the Dragon has some of the most unique and exceptional fight sequences ever seen. Chop through the pile of DVD extras to find an audio commentary from Jet Li, Bridget Fonda and Director Chris Nahon and brush up on your martial arts skills with the Corey Yuen Action Academy. You`ll also be knocked out with featurettes including a look at Jet Li`s techniques and you`ll be able to access what went on behind the scenes in the `Police Gym` before checking out the `Laundry Chute` scene from a variety of angles!
Special Features:
Audio Commentary by Jet Li, Bridget Fonda and director Chris Nahon
Corey Yuen Action Academy featurette
The Jet Li Technique/Fight philosophy featurette
Martial Arts demo
Storyboard sequence
The Laundry Shoot Multiangle sequence
On the Set featurette
Making of Featurette
6 TV Spots
Action Gallery. Montage of Action Moves
Theatrical trailer

Video Tracks:
Widescreen Anamorphic 2.35:1

Audio Tracks:
Dolby Digital 5.1 English

Directed By:
Chris Nahon

Written By:
Robert Mark Kamen
Luc Besson
Jet Li

Starring:
Cyril Raffaelli
Laurence Ashley
Burt Kwouk
Ric Young
Tchéky Karyo
Bridget Fonda
Jet Li

Casting By:
Max Morel
Hélène Chéruy
Gaëlle Barenton

Soundtrack By:
Craig Armstrong

Director of Photography:
Thierry Arbogast

Editor:
Marco Cavé

Costume Designer:
Annie Thiellement
Pierre Bechir

Production Designer:
Jacques Bufnoir

Producer:
Happy Walters
Jet Li
Bernard Grenet
Steve Chasman
Luc Besson

Distributor:
Twentieth Century Fox