Metropolis (Animated 2 Disc Set) (UK)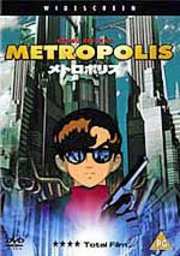 Welcome to Metropolis
Certificate: PG
Running Time: 104 mins
Retail Price: £19.99
Release Date:
Content Type: Movie
Synopsis:
Metropolis is the new milestone in Anime, a spectacular fusion of CG backgrounds with traditional character animation. It has beauty, power, mystery and above all.. heart. Images from this film will stay with you forever. My congratulations to Rintaro-san for his masterpiece." - James Cameron.
Brace yourself for a totally new experience in cutting-edge animation. Based on the classic comic created by Osamu Tezuka, written by Japanese anime legend Katsuhiro Otomo (Akira) and directed by Rintaro (Galaxy Express 999), Metropolis is a spectacular film featuring stunning imagery and unforgettable characters.

In the industrial, tri-level world of Metropolis, Duke Red is a powerful leader with plans to unveil a highly advanced robot named Tima. But Duke Red`s violent son Rock distrusts robots, and intends to find and destroy Tima. Lost in the confusing labyrinth beneath Metropolis, Tima is beginning a friendship with the nephew of a Japanese detective. But when Duke Red separates the two innocents, Tima`s life - and the fate of the universe - is dangerously at stake.
Special Features:
Disc 1:

Trailers.
Disc 2:

Animax special: The Making of Metropolis
Filmmaker interviews
Two animation comparisons
Photo gallery
History of Metropolis comic book
Filmographies

Video Tracks:
Widescreen Anamorphic 1.78:1

Audio Tracks:
Dolby Digital 5.1 English
Dolby Digital 5.1 Japanese

Subtitle Tracks:
Hindi
English

Directed By:
Tarô Rin

Written By:
Marc Handler
Osamu Tezuka
Katsuhiro Ôtomo

Starring:
Jamieson Price
Kei Kobayashi
Kouki Okada
Yuka Imoto

Soundtrack By:
Toshiyuki Honda

Distributor:
Columbia / Tristar