Stigmata (US)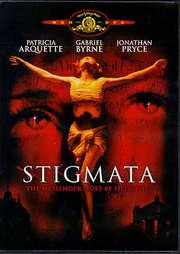 The messenger must be silenced
Certificate: R
Running Time: 102 mins
Retail Price: $24.98
Release Date:
Content Type: Movie
Synopsis:
A lost soul has just received the wounds of Christ... and a shocking message that will alter history. Stunning performances from Patricia Arquette (True Romance), Gabriel Byrne (The Usual Suspects) and Jonathan Pryce (Ronin) and a cutting edge score by Billy Corgan of "The Smashing Pumpkins" and Elia Cmiral make Sitgmata "a visual and visceral feast" (Entertainment Today).

Frankie Paige (Arquette) has absolutely no faith in God. All of that changes when she suddenly begins to suffer the Stigmata - the living wounds of the crucified Christ. Frankie`s miraculous bleeding comes to the attention of the Vatican`s top investigator, Father Kiernan (Byrne). But when Cardinal Houseman (Pryce), discovers that Frankie is actually channeling an extraordinary and provacative message that could destroy the Church, he`s convinced that she - and the force possessing her - must be forever silenced. Determined to stop this deadly conspiracy, Kiernan risks his faith - and his life - to save her and the message that will change the destiny of mankind forever.
Special Features:
Interactive Menus
Scene Access
Deleted Scenes
Director`s Alternate Ending
Music Video by Natalie Imbruglia
Collectible 8-Page Booklet
Theatrical Trailer
Audio Commentary by the Director

Video Tracks:
Widescreen Anamorphic 1.85:1

Audio Tracks:
Dolby Digital 5.1 English
Dolby Digital 5.1 French

Subtitle Tracks:
French
Spanish

Directed By:
Rupert Wainwright

Written By:
Rick Ramage
Tom Lazarus

Starring:
Rade Serbedzija
Nia Long
Jonathan Pryce
Gabriel Byrne
Patricia Arquette

Casting By:
Wendy Kurtzman

Soundtrack By:
Mike Garson
Billy Corgan
Elia Cmiral

Director of Photography:
Jeffrey L. Kimball

Editor:
Michael R. Miller
Michael J. Duthie

Costume Designer:
Louise Frogley

Production Designer:
Waldemar Kalinowski

Producer:
Vikki Williams
Frank Mancuso Jr.

Distributor:
United Artists
Metro Goldwyn Mayer