Zelig (UK)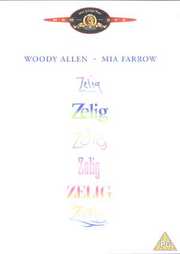 Mr. Personality? Or Mr. Personality Disorder?
Certificate: PG
Running Time: 76 mins
Retail Price: £15.99
Release Date:
Content Type: Movie
Synopsis:
A delightful faux-documentary, charting the life of Leonard Zelig (Allen) - an ordinary man with the extraordinary ability to change himself to be more like those around him.
Leonard Zelig, is a meek and mild character who discovers that he is a human chameleon who can perfectly blend into any situation with anybody. This talent enables him to meet the most of famous of 1920`s society and we see Zelig in shot with such greats as Josephine Baker, William Randolph Hearst, Marion Davies, Al Capone, F. Scott Fitzgerald, Lou Gehrig, `Babe` Ruth and Fanny Brice.

His talent brings him to the attention of the documentary makers who are making this film, the media and the medical profession where he meets Dr. Eudora Fletcher, the psychiatrist who eventually falls for him.

This brilliant film is a technical masterpiece that was nominated for two Oscars. It`s an unusual insight into the world of a weak and insignificant individual who would do anything to make those around him like him more...
Special Features:
Original theatrical trailer

Video Tracks:
Widescreen Anamorphic 1.85:1

Audio Tracks:
Dolby Digital Mono English
Dolby Digital Mono Spanish
Dolby Digital Mono German
Dolby Digital Mono Italian
Dolby Digital Mono French

Subtitle Tracks:
French
CC: German
Italian
English
Spanish
CC: English
Dutch

Directed By:
Woody Allen

Written By:
Woody Allen

Starring:
Paul Nevens
Stanley Swerdlow
Marvin Chatinover
John Buckwalter
Mia Farrow
Woody Allen

Casting By:
Juliet Taylor

Soundtrack By:
Dick Hyman
Horst Wessel

Director of Photography:
Gordon Willis

Editor:
Susan E. Morse

Costume Designer:
Santo Loquasto

Production Designer:
Mel Bourne

Producer:
Michael Peyser
Robert Greenhut

Executive Producer:
Jack Rollins
Charles H. Joffe

Distributor:
Metro Goldwyn Mayer