Do Not Disturb (UK)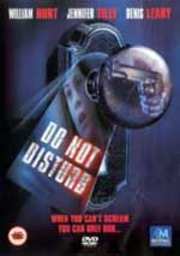 She could not talk... She could not scream... She could only run...
Certificate: 15
Running Time: 94 mins
Retail Price: £15.99
Release Date:
Content Type: Movie
Synopsis:
Imagine that you`re in a strange city where everyone speaks a foreign language. People are chasing you and you don`t know who you can trust or where you can turn. Now, imagine that you`re only ten years old and mute. Walter Richmond (William Hurt) and his family have come to Amsterdam to close an important business deal. But their hotel is under siege by fans of a visiting popstar and daughter Melissa gets lost in the mob. Wandering into a dark courtyard, she accidentally witnesses a brutal murder and is soon forced on the run.

But who can she turn to for help? Her
father? Her father`s business associate (Michael Chiklis)? Helpful drug dealer Simon (Denis Leary)? Or how about her mother (Jennifer Tilly)? She`s going to have to choose fast as it may be the last choice she ever makes. Because one of these people is responsible for the murder she is trying to expose. And one of them will stop at nothing to keep it a secret. From cult director Dick Maas comes this dark, off-kilter thriller with more twists and turns than the streets of Amsterdam itself...
Special Features:
Trailer
Cast Notes
Production Notes
Photo Gallery

Video Tracks:
Widescreen Letterbox 1.85:1

Audio Tracks:
Dolby Digital Stereo 2.0 English

Directed By:
Dick Maas

Written By:
Dick Maas

Starring:
Michael Chiklis
Denis Leary
William Hurt
Corey Johnson
Francesca Brown
Jennifer Tilly

Soundtrack By:
Dick Maas

Director of Photography:
Marc Felperlaan

Editor:
Bert Rijkelijkhuizen

Producer:
Laurens Geels
Dick Maas
Martin Lagestee

Executive Producer:
Heinz Thym
Heinz Lehmann

Distributor:
Mosaic Entertainment