Go (UK)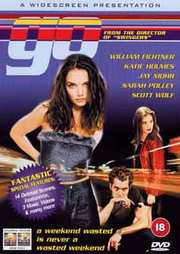 Life begins at 3am
Certificate: 18
Running Time: 100 mins
Retail Price: £19.99
Release Date:
Content Type: Movie
Synopsis:
From the director of `Swingers` comes a black comedy (with a superb soundtrack) tracing the outrageous misadventures of a group of young American delinquents.

18-year-old check-out girl Ronna (Sarah Polley - `The Sweet Hereafter`) is trying to score some rent money before she is evicted on Christmas Eve. Accompanied by reluctant partner in crime Claire (Katie Holmes - TV`s `Dawson Creek`), she embarks on her first drug deal...

Meanwhile, impulsive Brit Simon (Desmond Askew) is driving a stolen car with buddy Marcus (Taye Diggs - `How Stella Got Her Groove Back`) during a no-holds-barred night of partying in Vegas, as tv stars Adam (Scott Wolf - TV`s `Party of Five`) and Zack (Jay Mohr - `Jerry Maguire`) find themselves in the middle of a real life drug sting - and a very creepy Christmas dinner...
Special Features:
Animated Main Menu with Film Score
Scene Access
Behind The Scenes Featurette
Deleted Scenes
Director`s Commentary
Filmographies
International Trailer
3 x Music Videos

Video Tracks:
Widescreen Letterbox 2.35:1

Audio Tracks:
Dolby Digital 5.1 English
Dolby Digital 5.1 German

Subtitle Tracks:
Hebrew
Icelandic
Polish
Czech
Hindi
Swedish
Finnish
Turkish
English
German
Greek
Hungarian
Dutch
Danish
Norwegian

Directed By:
Doug Liman

Written By:
John August

Starring:
Jay Mohr
Robert Peters
Desmond Askew
Sarah Polley
Scott Wolf
Nathan Bexton
Suzanne Krull
Katie Holmes

Casting By:
Joseph Middleton

Soundtrack By:
BT

Director of Photography:
Doug Liman

Editor:
Stephen Mirrione

Costume Designer:
Genevieve Tyrrell

Production Designer:
Thomas P. Wilkins

Producer:
Mickey Liddell
Paddy Cullen
Paul Rosenberg
Matt Freeman
John August

Distributor:
Columbia / Tristar