Protectors, The: Vol. 1 Series 1, Episodes 1 to 8 (UK)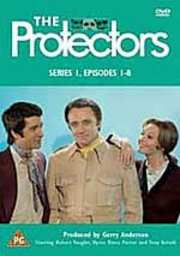 The ultimate in jet-setting, high-kicking adventure!
Certificate: PG
Running Time: 0 mins
Retail Price: £15.99
Release Date:
Content Type: TV Series
Synopsis:
Gerry Anderson`s first and only contemporary thriller series is the ultimate in jet-setting, high-kicking adventure!

Harry Rule (Robert Vaughn) is an American lone wolf in London. Contessa di Contini (Nyree Dawn Porter) is a beautiful British aristo abroad. Paul Buchet (Tony Anholt) is a suave Parisian specialising in gadgetry. Together they are The Protectors - three intrepid international private detectives.

Faced with intriguing crimes and dangerous adversaries, our heroes juggle sleuth, adventure and romance in fast-paced and unmissable adventures shot in some of the most exciting cities in the world.

This DVD features the following episodes: 2000ft To Die, Brother Hood, Disappearing Trick, Your Witness, Quick Brown Fox, Numbers Game, Triple Cross, A Kind Of Wild Justice.
Special Features:
Stills Gallery
Original Concept Notes

Video Tracks:
Standard 1.33:1

Audio Tracks:
Dolby Digital Mono English

Written By:
Dennis Spooner

Starring:
Yasuko Nagazumi
Anthony Chinn
Tony Anholt
Nyree Dawn Porter
Robert Vaughn

Soundtrack By:
John Cameron

Director of Photography:
Brendan J. Stafford

Producer:
Reg Hill
Gerry Anderson

Distributor:
Carlton