Yojimbo (UK)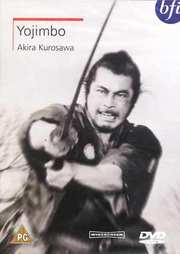 The story of the lone samurai who appears one day in a feuding gamblers town as a mercenary for sale
Certificate: PG
Running Time: 106 mins
Retail Price: £19.99
Release Date:
Content Type: Movie
Synopsis:
Later to be remade as A Fistful Of Dollars, Yojimbo is the story of the lone samurai who appears one day in a feuding gamblers town as a mercenary for sale. Clint Eastwood`s man with no name was never as magnificent as the great Toshiro Mifune, who here brings an ironic humour to a film which many critics consider to be one of the best action/adventure movies ever made.

The style and setting of the film owe much to Kurasowa`s admiration for the widescreen epis westerns of John Ford, and the soundtrack by Masaru Sato is more than equal to Morricone`s later score.

Digitally mastered from a new print, this DVD release features a full-length commentary option by film historian Philip Kemp, plus on-screen biographies of Kurasaswa and Mifune.
Special Features:
Audio commentary by film historian Philip Kemp

Video Tracks:
Widescreen Letterbox 2.35:1

Audio Tracks:
Dolby Digital Mono English

Subtitle Tracks:
English

Directed By:
Akira Kurosawa

Written By:
Akira Kurosawa
Ryuzo Kikushima
Dashiell Hammett

Starring:
Takashi Shimura
Kamatari Fujiwara
Eijirô Tono
Toshirô Mifune

Soundtrack By:
Masaru Satô

Director of Photography:
Kazuo Miyagawa

Editor:
Akira Kurosawa

Costume Designer:
Yoshirô Muraki

Production Designer:
Yoshirô Muraki

Producer:
Akira Kurosawa

Executive Producer:
Tomoyuki Tanaka
Ryuzo Kikushima

Distributor:
BFI Video