Net, The (UK)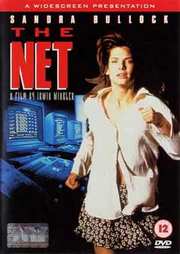 Her driver`s license. Her credit cards. Her bank accounts. Her identity. DELETED
Certificate: 12
Running Time: 110 mins
Retail Price: £19.99
Release Date:
Content Type: Movie
Synopsis:
Imagine a world where everything about you is on record. A world where every trace of your existence is on computer... A world which could easily be erased...
Angela Bennett (Sandra Bullock - `Speed`, `A Time To Kill`) is a freelance computer analyst who spends her days tracking down computer viruses and her nights at home `chatting` to other internet users.

She is content with her reclusive existence until her life is turned upside down when she is sent a top secret disc. Caught up in a murderous web of corruption and conspiracy, and pursued by a force that will stop at nothing including deleting all traces of her existence, Angela is forced to flee for her life...
Special Features:


Video Tracks:
Widescreen Anamorphic 1.85:1

Audio Tracks:
Dolby Digital 5.1 English
Dolby Digital Surround 2.0 English

Subtitle Tracks:
Hebrew
Polish
Czech
Hindi
English
Hungarian
Russian

Directed By:
Irwin Winkler

Written By:
Michael Ferris
John D. Brancato

Starring:
Wendy Gazelle
Diane Baker
Dennis Miller
Jeremy Northam
Sandra Bullock

Casting By:
Mindy Marin

Soundtrack By:
Jeff Rona
Mark Isham

Music From:
Frédéric Chopin

Director of Photography:
Jack N. Green

Editor:
Richard Halsey

Costume Designer:
Linda M. Bass

Production Designer:
J. Dennis Washington

Producer:
Irwin Winkler
Rob Cowan

Distributor:
Cinema Club