Mortal Kombat (UK)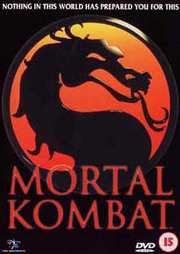 Kombat Begins
Certificate: 15
Running Time: 97 mins
Retail Price: £19.99
Release Date:
Content Type: Movie
Synopsis:
In the dark and foreboding realm of the Outworld the world`s greatest warriors must survive the supreme battle between ultimate good and absolute evil.

Led by sorcerer Shang Tsung, the evil Shokan Prince Goro has been Kombat champion for nine generations. If he triumphs for a tenth time the portals of Earth will be opened and the desolation and despair that has flourished in the Outworld will reign over the Earth for eternity.

Guided by the nightly thunder god Rayden (Christopher Lambert: Highlander, Fortress), three humans must delve deep within their souls to discover the power they need to conquer a host of insurmountable games and vanquish their diabolical superhuman enemy.

Mortal Kombat is not just a battle to the death... it is the final battle for life.
Special Features:
US Theatrical Trailer
Kombatants Filmographies

Video Tracks:
Widescreen Anamorphic 1.85:1

Audio Tracks:
Dolby Digital 5.1 English

Directed By:
Paul Anderson

Written By:
Kevin Droney
John Tobias
Ed Boon

Starring:
Bridgette Wilson
Linden Ashby
Cary-Hiroyuki Tagawa
Robin Shou
Christopher Lambert

Casting By:
Mark Paladini
Fern Champion

Soundtrack By:
Ben Watkins
Mike Maguire
Traci Lords
Stefan Holweck
George S. Clinton
Buckethead

Director of Photography:
John R. Leonetti

Editor:
Martin Hunter

Costume Designer:
Ha Nguyen

Production Designer:
Jonathan A. Carlson

Producer:
Alison Savitch
Lawrence Kasanoff
Lauri Apelian

Executive Producer:
Danny Simon
Robert Engelman

Distributor:
Columbia / Tristar