Review of Flash Gordon
Introduction
"Pathetic Earthlings... Who Can Save You Now?"
Take a classic comic-strip sci-fi story that used to be regular Saturday morning television viewing for many people, add a cast including Brian Blessed and Timothy Dalton, a soundtrack by rock giants Queen and some flashy special effects, and you end up with the movie Flash Gordon, now an unbelievable 22 years old.
Galactic ruler Ming the Merciless is bored and decides to play with the Earth before finally destroying it, but he hadn`t expected to be up against hero Flash Gordon and scientist Doctor Hans Zarkov, who has been predicting such an event for years. Their quest to save the earth is helped by Dale Arden and two of Ming`s adversaries - Prince Barin and Prince Vultan - who usually fight each other but team up to overthrow their ruler.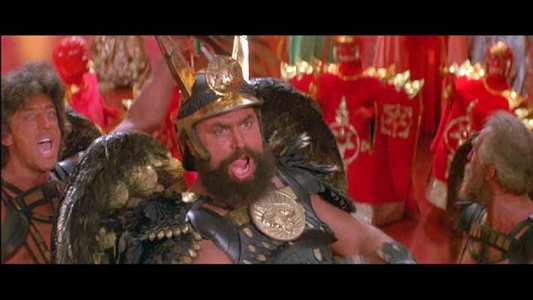 Video
"Flash, Flash, I love you, but we only have fourteen hours to save the Earth!"
The video is presented in 2.35:1 anamorphic widescreen and is of a good standard, with little evidence of film grain or dirt. The image is crisp, detailed, colourful and stable - which is all you can ask for from a 22 year old movie.
The movie was a special effects fest when released back in 1980 and is still a visual treat, although many of the effects have aged quite badly - the flying hawkmen for example and most of the rear projection. However, the sets still look impressive, as do the skies and general scale of the locations used. Some of the spacecraft look good and have credible movement, others do not and jerk slightly as they traverse the screen. Another visual problem is the flight of Zarkov`s rocket to Ming`s world - the matting process is visible as a lightly coloured rectangle surrounds the craft as it travels over the elaborate backgrounds...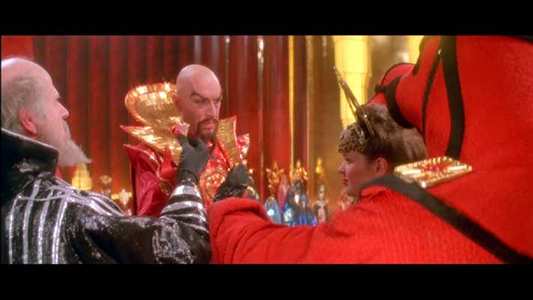 Audio
"Gordon`s Alive"
The soundtrack is presented in Dolby Digital 2.0, providing an embedded Dolby Pro-Logic signal. Any movie with a soundtrack by Queen deserves a full discrete 5.1 channel remix, so I was a little disappointed with the restricted frequency mono rear channel offered by the disc.
Having said that, the sound reproduction is good, with the wonderful soundtrack blasting out from the front channels, plenty of sound effects and the dialogue easily understandable during the mayhem. Speaking of dialogue, Brian Blessed belts out some brilliant lines from beneath one of cinema`s most impressive beards.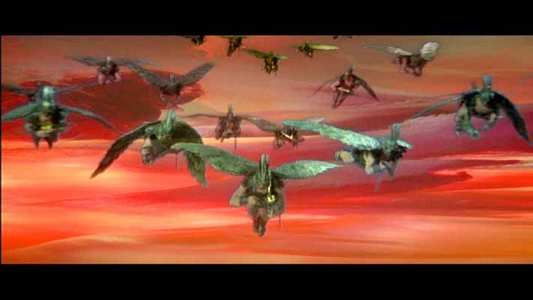 Features
"Dispatch war rocket Ajax to bring back his body"
Unfortunately, the only extras on offer are the trailer and a photo gallery, which is a shame as is potential for some excellent bonus material.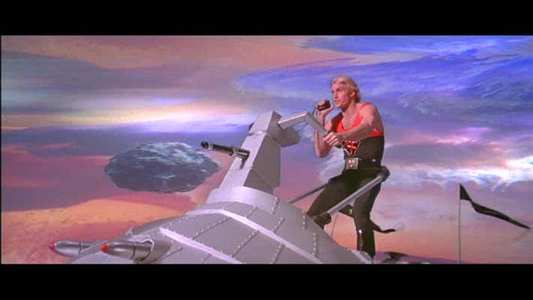 Conclusion
"Onward my brave Hawkmen! Let this be known forever as Flash Gordon`s Day!"
Flash Gordon isn`t remembered as a "classic" movie, but is just was entertaining today as it has been every other time I`ve seen it. The film came out in a time dominated by Star Wars and Star Trek and gave a little light-hearted relief to the sci-fi genre. A classic comic-book story and a great cast are backed up by lavish sets, an amusing script and the Queen soundtrack.
The picture and video are both good, although a Dolby Digital 5.1 soundtrack would have been preferred. Unfortunately the extras aren`t very exciting.
Overall, I really enjoyed watching Flash Gordon again and the repeat viewing potential makes this disc a good addition to my collection.