Thenali (Ayngaran International) (Region Free)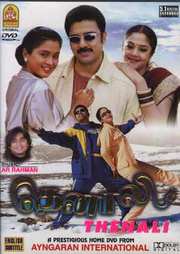 The Psychiatrist And His Patient
Certificate: U
Running Time: 165 mins
Retail Price: $19.99
Release Date:
Content Type: Movie
Synopsis:
Thenali Soman (Kamal Hassan) is a Sri Lankan (Ceylon) man who suffers from numerous phobias. He is a patient of Dr. Panja Bootham (Delhi Ganesh), a psychiatrist whose only aim is to smear the reputation of Dr. Kailash (Jayaram), a fellow psychiatrist but who is much more popular, with the help of the media.

The only way which Dr. Ranja Bootham can ruin Dr. Kailash`s career is to make Thenali, a difficult patient to treat, become a new patient for Dr. Kailash. But the doctor is busy on vacation along with his wife Jalaja (Devayani) his two children and his younger sister Janaki (Jothika).

Dr. Panja Bootham makes sure that Thenali makes his entrance on Dr. Kailash`s vacation. When he succeeds Dr. Kailash tries to find a way to get rid of Thenali so that he can spend some quality time with his family, but all of his plans backfire as both his family begin to grow fond of the patient while Thenali sees the doctor`s efforts as part of his treatment that is being effective in curing him...
Special Features:
Interactive Menus
Scene Access

Video Tracks:
Widescreen Anamorphic 2.20:1

Audio Tracks:
Dolby Digital 5.1 Tamil

Subtitle Tracks:
English

Directed By:
K.S. Ravikumar

Written By:
K.S. Ravikumar

Starring:
Meena
Ramesh Khanna
Devayani
Jayaram
K.S. Ravikumar
Charlie
Delhi Ganesh
Jothika
Kamal Hassan

Soundtrack By:
A.R. Rahman

Distributor:
Ayngaran International