Twilight Zone, The: Vol 28 (UK)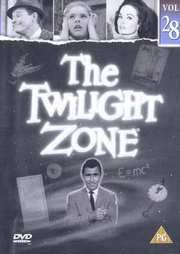 3 more episodes
Certificate: PG
Running Time: 80 mins
Retail Price: £15.99
Release Date:
Content Type: TV Series
Synopsis:
The Whole Truth - Episode 50
An unsrupulous car salesman meets his match in a haunted auto with a mind of its own.

Mute - Episode 107
A little girl raised on telepathic communication must adjust to the spoken word after her parents are killed in a fire.

Queen Of The Nile - Episode 143
An inquisitive reporter tries to find the key to the apparent immortality of a glamorous movie star, who is currently playing the `Queen of the Nile.` Prepare yourself for an unusually gruesome finale!
Special Features:
Interactive Menus
Scene Access
Special `Inside The Twilight Zone` section, written by Marc Scott Zigree, author of the bestseller, The Twilight Zone companion, Includes Biographical info on Rod Serling, History of The Twilight Zone, reviews of each episode, cast information and a season-by-season commentary!
Digitally re-mastered episodes

Video Tracks:
Standard 1.33:1

Audio Tracks:
Dolby Digital Mono English

Written By:
Rod Serling
Lawrence Menkin
Richard Matheson
George Clayton Johnson
Jerome Bixby
Charles Beaumont

Starring:
Rod Serling

Casting By:
Ethel Winant
Lynn Stalmaster
James Lister

Soundtrack By:
Franz Waxman
Van Cleave
Leith Stevens
Fred Steiner
Leonard Rosenman
Lucien Moraweck
Bernard Herrmann
Jerry Goldsmith
René Garriguenc
Marius Constant

Director of Photography:
Harry J. Wild
Harkness Smith
Robert Pittack
Joseph LaShelle
George T. Clemens

Editor:
Bill Mosher
Jason H. Bernie
Leon Barsha

Producer:
Rod Serling
Del Reisman
Buck Houghton
Herbert Hirschman
Bert Granet
William Froug

Distributor:
Image Entertainment