Nosferatu The Vampyre (UK)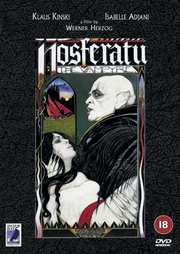 The remake of the classic horror
Certificate: 18
Running Time: 107 mins
Retail Price: £16.99
Release Date:
Content Type: Movie
Synopsis:
It is 1850 in the beautiful, perfectly kept town of Wismar. Johnathan Harker (Bruno Ganz) is about to leave on a long journey over the Carpathian Mountains to finalise real estate arrangements with a wealthy nobleman.
His wife Lucy (Isabel Adjani) begs him not to go and is troubled by a strong premonition of danger. Despite her warnings, Johnathan arrives four weeks later at a large, gloomy castle. Out of the mist appears a pale wraith-like figure with a shaven head and deep sunken eyes who identifies himself as Count Dracula (Klaus Kinski). The events that transpire slowly convince Harker that he is in the midst of a vampire.

What he doesn`t know, however, is the magnitude of danger he, his wife and his town are about to experience as victims of the Nosferatu.
Special Features:
Interactive Menus
Scene Access
Theatrical Trailers
Behind the Scenes Footage

Video Tracks:
Widescreen Anamorphic 1.78:1

Audio Tracks:
Dolby Digital Mono English
Dolby Digital 5.1 German

Subtitle Tracks:
English

Directed By:
Werner Herzog

Written By:
Bram Stoker
Werner Herzog

Starring:
Dan van Husen
Walter Ladengast
Roland Topor
Bruno Ganz
Isabelle Adjani
Klaus Kinski

Soundtrack By:
Popol Vuh

Music From:
Richard Wagner
Charles Gounod

Director of Photography:
Jörg Schmidt-Reitwein

Editor:
Beate Mainka-Jellinghaus

Costume Designer:
Gisela Storch

Production Designer:
Henning von Gierke

Producer:
Werner Herzog
Michael Gruskoff

Executive Producer:
Walter Saxer

Distributor:
Anchor Bay