Space 1999: Series 2 Vol. 1 (UK)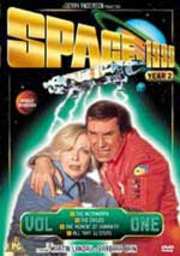 4 episodes
Certificate: PG
Running Time: 200 mins
Retail Price: £15.99
Release Date:
Content Type: TV Series
Synopsis:
The Metamorph
Koenig goes to rescue two captured pilots from the planet Psychon but comes to meet Mentor, a man lording over a world of virtual zombies who work for him as miners. Koenig believes he is capable of defeating Mentor and preventing him using a biological computer that feeds on the minds and bodies of his slaves.
The Exiles
Travelling through space are fifty cylinder-shaped objects. When Koenig recovers one, inside is a young man named Cantar. This is the mark of the trouble to come as Cantar and his wife force their way into the power station and use its energy to transport them to their own planet, from which they were exiled.

One Moment of Humanity
Zamara, a striking alien woman materialises aboard Moonbase and takes two people back to her own planet. However, Zamara and her accomplice Zarl are in fact super-androids developed by successive generations of self-reproducing computers and want to wipe out the humans who invented them.

All That Glisters
After scanning a planet, which contains Milgonite, a rare mineral vital to Alpha`s life support system, the Alphans are eager to visit it. However, by the time that they discover that there is no Milgonite, only a deceptive lethal drug, it is too late. The deadly rock is already aboard Alpha.
Special Features:
Interactive Menus
Scene Access

Video Tracks:
Standard 1.33:1

Audio Tracks:
Dolby Digital Mono English

Subtitle Tracks:
CC: English

Starring:
Zienia Merton
Nick Tate
Barbara Bain
Martin Landau

Soundtrack By:
Derek Wadsworth
Barry Gray

Editor:
Alan Killick
Derek Chambers
Mike Campbell

Costume Designer:
Eileen Sullivan
Emma Porteus
Rudi Gernreich

Production Designer:
Keith Wilson

Producer:
Fred Freiberger
Sylvia Anderson

Executive Producer:
Gerry Anderson

Distributor:
Carlton