Peter Sellers Box Set (UK)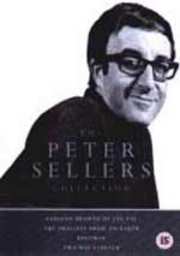 4 movies
Certificate: 15
Running Time: 0 mins
Retail Price: £29.99
Release Date:
Content Type: Movie
Synopsis:
Hoffman
Peter Sellers is Hoffman, a middle aged misfit who blackmails his young attractive secretary into spending a week with him. Although he behaves like a creep throughout the weekend, he actually emerges as a sympathetic character in the end.
Two Way Stretch
While in prison, Peter Sellers has planned the perfect robbery. He intends to break out, steal a fortune in diamonds, and then break back in prison without anyone noticing he has been absent. With only a few days left of his sentence, and a perfect alibi - what could possibly go wrong?

Carlton-Browne Of The F.O.
Peter Sellers is Amphibulos, the corrupt Prime Minister of a small Pacific Island who hopes to profit from renewed interest in the Island from the British in the wake of the death of the Island`s King and the rumour of valuable mineral deposits being found on the island.

Carlton Browne (Terry Thomas) is the hapless man from the Foreign Office sent to re-establish friendly relations with the idealistic heir to the throne (Ian Bannen).

The Smallest Show On Earth
Jean and Bill are a married couple trying to scrape a living. Out of the blue they receive a telegram informing them that Bill`s long-lost uncle has died and left them his business - a cinema in the town of Sloughborough. They expect to sell the cinema to gain a huge inheritance, however, when they get there they discover the cinema is falling apart and is run by three equally run-down attendants (Peter Sellers, Margaret Rutherford and Bernard Miles) who seem to have worked there forever.
Special Features:
Interactive Menus
Scene Access

Video Tracks:
Widescreen Anamorphic 1.85:1

Audio Tracks:
Dolby Digital Stereo 2.0 English

Starring:
Peter Sellers

Distributor:
Momentum Pictures