Review of Star Trek IV: The Voyage Home
Video
Paramount have been releasing the Star Trek series sequentially on DVD for ages now. Oddly enough they have been working backwards through the series. Currently they have numbers 3, 2 and 1 to go. The reason for this is apparently that the older the movie, the more work needs to be done. Apparently they only had digital masters for movies 5 and onwards. I am not so sure if I believe this fully but, if this is is anything to go buy, the time spent will be very well worthwhile.
This quality of this image is great. Not reference quality but, given the age of the movie, a great job has been done here. To see how well the disc has been re-mastered take a look at the sequence where the probe passes the starbase. There is an internal shot of the starbase losing all power. On the regular VHS version it simply goes black, on this DVD you can see the detail of the starbase as varying shades of black. You can still make out every bit of detail just as you should be able to. Nice. There is no real sign of the movies age at all although a few scenes could look a little cleaner (mainly the shots of space craft). Overall though a very good job.
Is there really any point commenting on the the look of this movie? After all it is Star Trek and looks just like Star Trek always has. Well I just have to mention the whale effects. Apparently less than 5% of the whale sequences were actually of real whales. Watch the film and try to spot the few real scenes, I bet you can`t tell the difference. Impressive work.
Audio
Along with a great picture we get a good soundtrack as well. The probe kicks out some serious bass so be careful if you have any neighbors :). The positioning of the spot effects is just right. The sounds moves around the soundstage as expected but this leads on to a problem. My only real criticism is that it could have been move involving, I felt it all washed over me a bit too easily and never really made me sit up and take notice. As a Star Trek film they have the perfect subject matter for some of the best soundtracks ever (as with First Contact) but there isn't anything memorable with this one. It does it's job . . . I would like for it to have done more though.
The music is a slightly more upbeat variation on the usual Star Trek theme as is the movie itself. It is not one of my favorites to be honest, in fact it is the one of only two Star Trek soundtrack that I don`t have on CD. It isn`t that it`s bad, quiet the contrary. It is just too lite for my taste.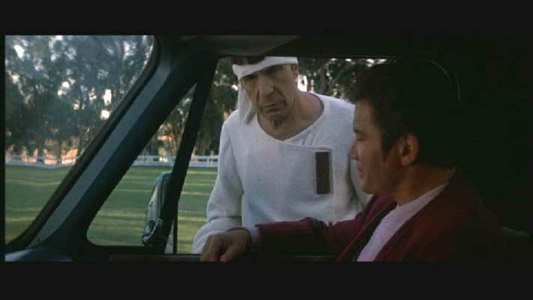 Features
What is it with Paramount? They have what must be one of the most successful franchises in the history of entertainment for which there is a wealth if supplemental material about. But what do we get on their Star Trek movie discs? Nothing at all! Ok, I take that back slightly. On this disc you get the obligatory trailer and a little "Paramount Directors Series" mini-featurette with Leonard Nimoy talking about directing. This is extremely short but it is nice to hear him explain to the audience the difference between widescreen and pan & scan.
This disc is crying out for a commentary track with the actors heavily involved, as are all the Star Trek discs. As you may know the actor who plays Dr.McCoy, Deforest Kelley, passed away recently. I would love to get the other stars insights into the movies before they pass on also, god forbid.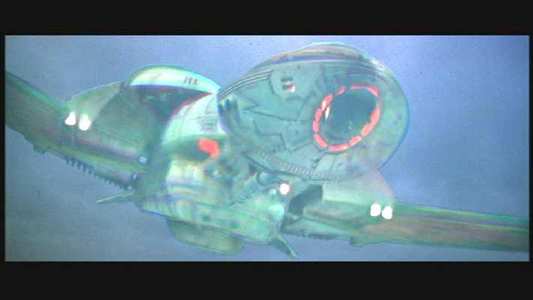 Conclusion
The movie was somewhat of a departure in the Trek movie series as, to this point, everything had been quite serious. This was set up as a much more relaxed adventure with far more humor and character interaction than before. As far as I can recall it was a huge success because of it. It was a return to the witty banter that used to take place between the characters in the television series in the sixties and audiences loved it.
It is amusing but, to be honest, there is something missing. I have been trying to put my finger on why I feel something is missing, and what it might be. All the actors are great in their regular roles. The interchanges between Kirk and Spock are a delight and highly amusing. The movie looks as good as you would expect being a Star Trek movie. So what's missing?
There is no enemy, that's what's missing. Throughout the entire series there are constant battles between good and evil. In First Contact it was The-Borg, in Srat Trek 6 it was the Kilngons. In this one we have an alien probe. Any threat posed by this probe is sort of eliminated by Spock's assumption that it is not hostile and is unaware that it's transmissions are harmful to Earth. There is no sense of danger really, so it is no longer the goodies against the baddies.
The premise of the movie is an all too real one. By that I don't mean that an Alien probe is gonna turn up and start making it p*** down :) I mean that the extinction of species here on Earth could well have some very real consequences further down the road. This is always what Star Trek always did well in it's television run and it is nice to see that there is a point to it all. This social message doesn't get in the way of the movie though so don't be put off thinking that you will be seeing a Green Peace movie about whaling.
So to sum up. This is a solid enough entry into the Star Trek series but be aware that large space battles it ain't. This is as close to a comedy as Star Trek gets really. The disc has a great picture with good, if unremarkable, sound. The lack of any real extras is as much of an annoyance as it is on the other Trek discs.
Trek fans won't want to miss this disc. Can I recommend it to non-Trek fans who might already have it on VHS? Sure, the increase in picture quality alone is worth it. I am just praying that Paramount don't already have a Special Edition of all the Trek movies already lined up and that I am going to have to but them twice :)