WWE American Nightmare - The Best of Cody Rhodes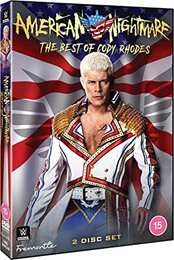 Certificate: 15
Running Time: 268 Mins
Retail Price: £9.99
Release Date: 20/02/2023
Content Type: TV Series
Synopsis:
Boasting a dangerous arsenal and a tremendous knowledge of the squared circle, Cody Rhodes made his mark in WWE from 2007 to 2016, capturing two Intercontinental Championships and six Tag Team Championships. Although he was sometimes "Dashing," he was far more than a pretty face.

Battling everyone from Randy Orton, to The Miz, to Rey Mysterio, Cody Rhodes' talent could not be denied.

After leaving WWE, The American Nightmare returned in 2022 at WrestleMania 38 as Seth "Freakin" Rollins' surprise opponent.

Now, you can witness a legacy in the making with American Nightmare: The Best of Cody Rhodes!
Special Features:
RAW – 16/07/2007
WWE Debut
Cody Rhodes vs Randy Orton

Night of Champions – 29/06/2008
WWE World Tag Team Championship Match
Cody Rhodes & Hardcore Holly vs. Ted DiBiase & A Mystery Opponent

Hell in a Cell – 04/10/2009
Hell in a Cell Match
Cody Rhodes & Ted DiBiase vs. D-Generation X (Triple H & Shawn Michaels)

WrestleMania XXVI – 28/03/2010
Triple Threat Match
Cody Rhodes vs. Ted DiBiase vs. Randy Orton

WrestleMania XXVI – 03/04/2011
Cody Rhodes vs. Rey Mysterio

SmackDown – 11/04/2011
Street Fight
Randy Orton vs. Cody Rhodes

SmackDown – 31/08/2012
Rey Mysterio vs. Cody Rhodes

RAW – 02/09/2013
Cody Rhodes vs. Randy Orton

Battleground 06/10/2013
Rhodes Family Careers on the Line
Cody Rhodes & Goldust vs. Roman Reigns & Seth Rollins

RAW – 14/10/2013
No Disqualification Match for the World Tag Team Championship
The Shield vs. Cody Rhodes & Goldust

Raw – 16/06/2014
Goldust & Stardust vs. Rybaxel

Fastlane – 22/02/2015
Stardust vs. Goldust

SUMMERSLAM – 23/08/2015
Tag Team Match
Stardust & King Barrett vs. Neville & Stephen Amell

WrestleMania 38 – 02/04/2022
Cody Rhodes vs. Seth "Freakin" Rollins

Hell in a Cell – 05/06/2022
Hell in a Cell Match
Cody Rhodes vs. Seth "Freakin" Rollins

Related Websites:
https://wwedvd.co.uk/wrestling/american-nightmare-the-best-of-cody-rhodes-pre-order-dvd/

Distributor:
Fremantle Home Entertainment