Lady Death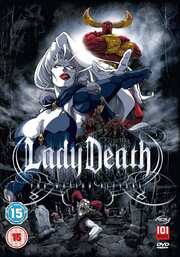 Bad girls go to Hell... REALLY bad girls conquer it!
Certificate: 15
Running Time: 76 mins
Retail Price: £17.99
Release Date: 2013
Content Type: Movie
Synopsis:
Only in DEATH does she find the will to live...

Her legend begins in the 15th Century, stripped of her innocence through her father's betrayal, a pious, young woman, Hope, is sentenced to a trial by fire. She reluctantly accepts Lucifer's offer of life in hell over a hideous painful death. Lucifer's offer takes a diabolical twist as she discovers her true origins and the existing fate of her lost love and departed mother.

Unable to corrupt a soul of such purity, Lucifer banishes Hope to the horrors of hell, where she must find the strength and courage to survive and ultimately return to free the souls of the ones she loves. Together with the valiant outcast, Cremator and her trusted companions, Vassago and the Nameless Wolves, she is transformed into the powerful warrior LADY DEATH and challenges the Lord of Lies for control of Hell itself.

The resulting conflict explores the depths of faith and love as an alternative to the corrupting power of evil.
Special Features:
Visions of Hell
Animating Death
Trailers

Video Tracks:
1.78:1 anamorphic widescreen

Audio Tracks:
Dolby Digital 5.1 Surround English
Dolby Digital 5.1 Surround German

Subtitle Tracks:
English
German

Directed By:
Andrew Orjuela

Written By:
Carl Macek
Brian Pulido

Starring:
Christine M. Auten
Andy McAvin
Chris Patton
Dwight Clark
Mike Kleinhenz
Mike MacRae
Rob Mungle

Music From:
Bill Brown

Editor:
Andrew Orjuela
Joey Goubeaud

Producer:
Andrew Orjuela

Executive Producer:
John Ledford
Kevin Corcoran
Mark Williams

Distributor:
101 Films