Desperado & El Mariachi (UK)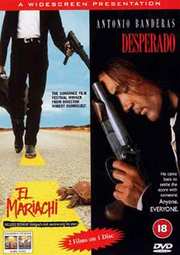 He came back to settle the score with someone. Anyone. EVERYONE
Certificate: 18
Running Time: 179 mins
Retail Price: £19.99
Release Date:
Content Type: Movie
Synopsis:
All he wants is to be a mariachi, like his father, his grandfather and his great grandfather before him. But the town he thinks will bring him luck brings only a curse - a deadly mistaken identity. Forced to trade his guitar for a gun, the mariachi is playing for his life in this critically-accliamed film debut from director Robert Rodriguez.

Dressed in black, he cruises into a local bar and opens fire. He`s looking for Bucho (Joaquim de Almeida - `Clear And Present Danger`) but no-ones talking. Also in town is the Mariachi`s dude partner (Steve Buscemi - `Pulp Fiction`) and the sexy Carolina (Salma Hayek - `From Dusk Till Dawn`), who help him, the Mariachi, take on Bucho`s hitmen.

The searing heat in small town Santa Cecilia is only eased by the supercool soundtrack and a cameo appearance by one Quentin Tarantino (`Reservoir Dogs`). Equipped with a serious FX budget and a studio production team, `El Mariachi` director, Robert Rodriguez, continues the story of his Mexican mariachi.
Special Features:
Audio Set Up
Language Choice
Scene Select
Language Select
Filmographies
US Theatrical Trailer
Directors Commentary
Short Film
Music Video

Video Tracks:
Widescreen Anamorphic 1.85:1

Audio Tracks:
Dolby Digital 5.1 English

Subtitle Tracks:
Spanish
Norwegian
Greek
Swedish
Turkish
Hebrew
Icelandic
Czech
English
Finnish
Danish
German
Hindi
Hungarian
Polish

Directed By:
Robert Rodriguez

Written By:
Robert Rodriguez

Starring:
Tito Larriva
Carlos Gómez
Cheech Marin
Salma Hayek
Quentin Tarantino
Steve Buscemi
Joaquim de Almeida
Antonio Banderas

Soundtrack By:
Los Lobos

Music From:
Tito Larriva

Editor:
Robert Rodriguez

Costume Designer:
Graciela Mazón

Production Designer:
Cecilia Montiel

Producer:
Robert Rodriguez
Bill Borden
Carlos Gallardo
Elizabeth Avellan

Distributor:
Columbia Pictures