The Predator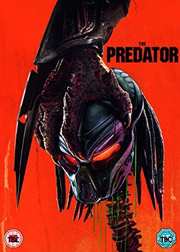 Certificate: 15
Running Time:
Retail Price: £9.99
Release Date: 28/01/2019
Content Type: Movie
Synopsis:
Decades after the first, fateful encounters between elite American forces and the extra-terrestrial Predators who hunt humans for honour and sport, Special Forces Captain Quinn McKenna (Boyd Holbrook) encounters a Predator marooned in the Mexican wilderness.

But soon after the captive Predator becomes the centrepiece of a top-secret study under evolutionary biologist Casey Brackett (Olivia Munn), a deadly new breed of Predator arrives on Earth, with plans that could threaten the entire planet's future.

Now Brackett, McKenna, his son, and a squad of military misfits have to band together to fend off both the alien threat and a human conspiracy - making surprising allies in the process.
Special Features:
Deleted Scenes

Featurettes:
A Touch of Black
Predator Evolution
The Takedown Team
Predator Catch-Up

Gallery

Related Websites:
http://www.foxhome.co.uk/

Directed By:
Shane Black

Written By:
Fred Dekker
Shane Black

Starring:
Boyd Holbrook
Trevante Rhodes
Jacob Tremblay
Keegan-Michael Key
Olivia Munn
Thomas Jane
Alfie Allen
Sterling K. Brown

Producer:
John Davis

Distributor:
20th Century Fox Home Entertainment