WWE: 30 Years of SummerSlam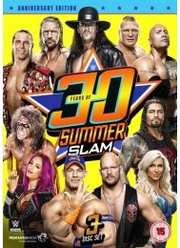 Certificate: 15
Running Time: 520 Mins
Retail Price: £24.99
Release Date: 27/08/2018
Content Type: TV Series
Synopsis:
For over three decades, the WWE Universe has gotten fired up by the hottest event of the summer, SummerSlam! Now relive those incredible moments with WWE's 30 Years of SummerSlam. Who could forget the Ladder Match featuring The Rock and Triple H or the insane Boiler Room Brawl between Undertaker and Mankind?

From Ultimate Warrior's first championship victory to the personal rivalry of Charlotte Flair and Sasha Banks, this set highlights the event's greatest milestones.

Welcome to The Biggest Party of the Summer!
Welcome to 30 Years of SummerSlam!

Features 18 Matches of Classic Summer Action!
Special Features:
Matches

Summerslam 1988
Intercontinental Championship
Honkytonk Man vs. Ultimate Warrior

Summerslam 1990
2 out of 3 Falls for WWE Tag Team Championship
Demolition vs. The Hart Foundation

Summerslam 1992
Intercontinental Championship
Bret hart vs. British Bulldog

Summerslam 1994
Steel Cage for WWE Championship
Bret Hart vs. Owen Hart

Summerslam 1996
Boiler Room Brawl
Undertaker vs. Mankind

Summerslam 1998
Ladder Match for Intercontinental Championship
The Rock vs. Triple H

Summerslam 2001
Ladder Match for WWE Hardcore Championship
Jeff Hardy vs. Rob Van Dam

Summerslam 2001
WWE Championship
Stone Cold Steve Austin vs. Kurt Angle

Summerslam 2002
Unsanctioned Match
Shawn Michaels vs. Triple H

Summerslam 2002
WWE Championship
The Rock vs. Brock Lesnar

Summerslam 2005
Hulk Hogan vs. Shawn Michaels

Summerslam 2007
WWE Championship
John Cena vs. Randy Orton

Summerslam 2009
TLC for the World Heavyweight Championship
CM Punk vs. Jeff Hardy

Summerslam 2012
Chris Jericho vs. Dolph Ziggler

Summerslam 2013
WWE Championship
John Cena vs. Daniel Bryan

Summerslam 2014
WWE Championship
John Cena vs. Brock Lesnar

Summerslam 2016
WWE Women's Championship
Sasha Banks vs. Charlotte

Summerslam 2017
Fatal 4-Way for Universal Championship
Brock Lesnar vs. Roman Reigns vs. Braun Strowman vs. Samoa Joe

Related Websites:
https://www.wwedvd.co.uk/years-summerslam-order-p-12602.html

Distributor:
Fremantle Home Entertainment