Leatherface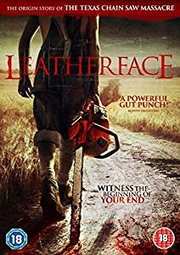 Certificate: 18
Running Time: 84 Mins
Retail Price: £17.99
Release Date: 08/01/2018
Content Type: Movie
Synopsis:
THE ORIGIN STORY OF THE TEXAS CHAINSAW MASSACRE.

Starring Stephen Dorff (Blade, Public Enemies) and Lili Taylor (The Conjuring). A young nurse is kidnapped by four violent teens after they escape from a psychiatric hospital, and take her on a road trip to hell. Pursued by an equally deranged, trigger-happy lawman out for revenge, one of these teens is destined for tragedy and horrors that will destroy his mind - moulding him into the monster we now know as Leatherface.

Also starring Sam Strike (We Still Steal the Old Way), Finn Jones (Game of Thrones, Iron Fist), Sam Coleman (Game of Thrones). From the directors of the extreme French masterpiece Inside.
Special Features:
Behind the Bloody Mask: Making Leatherface

Deleted Scenes
Alternate Opening
Alternate Ending

Related Websites:
http://www.lionsgatefilms.co.uk/latest-releases

Directed By:
Alexandre Bustillo, Julien Maury

Written By:
Seth M. Sherwood

Starring:
Actors: Stephen Dorff, Lili Taylor, Sam Strike, Vanessa Grasse, Finn Jones

Distributor:
Lionsgate Home Entertainment