The Princess Bride 30th Anniversary Edition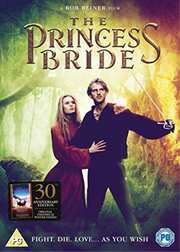 Certificate: PG
Running Time: 94 Mins
Retail Price:
Release Date: 23/10/2017
Content Type: Movie
Synopsis:
Comical fantasy tale of beautiful princesses, foul villains and dashing heroes from director Rob Reiner. The Princess Buttercup (Robin Wright Penn) is saddened by the disappearance of her true-love Westley (Cary Elwes), and finds that she now has no choice but to become engaged to the evil Prince Humperdinck (Chris Sarandon).

But Westley soon arrives back on the scene and, along with his mismatched band of adventurers, sets off on a daring mission to rescue his beloved. The film also stars Mandy Patinkin as a Spanish cavalier and Billy Crystal as a crazy magician.

This classic tale is celebrating 30 years for you to enjoy... as you wish!
Special Features:
1987 Original Feature in High Definition
1987 Making of Feature
Commentary by director Rob Reiner
Commentary by Author William Goldman
As you Wish--Documentary
Cary Elwes on set video
TV spots
Photo gallery

Related Websites:
http://www.lionsgatefilms.co.uk/releases/the-princess-bride-30th-anniversary-edition

Directed By:
Rob Reiner

Written By:
William Goldman

Starring:
Cary Elwes
Peter Falk
Mandy Patinkin
Carol Kane
André the Giant
Robin Wright
Chris Sarandon
Wallace Shawn
Peter Cook
Billy Crystal

Music From:
Mark Knopfler