Re-Kan Collection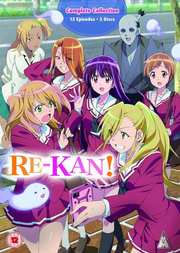 The new transfer student can see dead people...
Certificate: 12
Running Time: 328 mins
Retail Price: £29.99
Release Date: 2017
Content Type: TV Series
Synopsis:
Narumi Inoue has a problem with the new girl in school. It's not that Hibiki Amami is impolite or a bully... it's just that she sees, speaks with, and befriends ghosts!

Now, it's at the point that when Amami's around, Inoue sometimes sees them too, spelling disaster for a girl who's terrified of anything supernatural. However, Amami's genuine kindness makes it hard for Inoue to ignore her, especially when her friends Kyoko, Kana, and Makoto, as well as the other students, have accepted Amami's habit of talking to thin air and walking around invisible obstacles.

With gentle coaxing (and the knowledge that her departed grandmother is watching over her), Inoue finds herself immersed in Amami's strange, otherworldly adventures. Fulfilling the last wishes of the dead might not be a normal after-school activity, but at least they'll always know why the ghost crossed to the other side in RE-KAN!
Special Features:
Textless Credits
Trailers

Video Tracks:
1.78:1 anamorphic widescreen

Audio Tracks:
Dolby Digital 2.0 Stereo Japanese

Subtitle Tracks:
English

Directed By:
Masashi Kudo

Written By:
Takashi Aoshima
Hinako Seta

Starring:
Ibuki Kido
Miku Ito
Aya Uchida
Erii Yamazaki
Eriko Matsui
Futaba Kino
Kujira
M.A.O
Mikako Izawa
Riho Iida
Yoshihisa Kawahara
Yoshitaka Yamaya

Music From:
Hiroyuki Kouzu

Director of Photography:
Shinya Oda

Editor:
Takeshi Seyama

Producer:
Atsushi Yoshikawa
Daisuke Konda
Shinji Sekizawa
Shinya Nishizono
Tadakazu Hiraga
Taro Yamada
Tsuguharu Sakurai
Tsuyoshi Tanaka

Distributor:
MVM