Croisee in a Foreign Labyrinth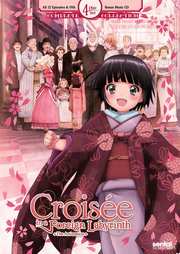 The only way to conquer change... Is to embrace it in your heart, and make it your own.
Certificate:
Running Time: 321 mins
Retail Price: $49.98
Release Date: 2012
Content Type: TV Series
Synopsis:
This Croisee in a Foreign Labyrinth complete collection contains episodes 1-12 plus a soundtrack CD.

Revolutions always wreak mayhem and carnage, and the Industrial Revolution is no different as it engulfs Europe, leaving outmoded businesses and millions stripped of their traditional ways of life forever as its casualties. Cultural Revolutions are no less devastating, and as the 19th century comes to an end, young Yune has seen her native Japan shaken to its very core as the walls separating it from the western world have finally crumbled, sending an entire nation on a quest for a new identity.

Like the phoenix, the new is inevitably born from the ashes of the old. When Yune decides to accompany her new acquaintance, Oscar, to Paris, where his family's metal declining shop is barely making ends meet in the face of its new competition, she may just be setting a new wave of changes into motion. Could Yune be the critical spark needed to rekindle the fires in both the hearts and minds of the Enseignes du Roy? As old worlds come to an end, new beginnings will be forged!
Special Features:
Picture Dramas
SD "Yune & Alice" Special Movies
Radio Dramas
Club AT-X Double R Video
Japanese Promos
Japanese Commercials
Trailers

Video Tracks:
1.78:1 anamorphic widescreen

Audio Tracks:
Dolby Digital 2.0 Stereo Japanese

Subtitle Tracks:
English

Directed By:
Kenji Yasuda

Written By:
Junichi Sato
Hinata Takeda

Starring:
Nao Toyama
Takashi Kondo
Aoi Yuki
Hideyuki Tanaka
Sayuri Yahagi
Takahiro Fujimoto
Tomohisa Asou

Music From:
ko-ko-ya

Director of Photography:
Atsushi Iwasaki
Chie Kato

Editor:
Masahiro Goto

Costume Designer:
Ikuko Ito

Producer:
Haruka Doi
Hiromasa Minami
Keiichi Nozaki
Norikatsu Umeda
Shinsaku Tanaka
Tsuyoshi Oda

Distributor:
Sentai Filmworks