Q Volume 1: Series 1-3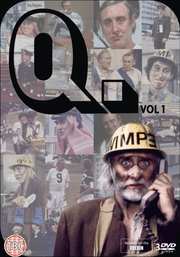 Certificate: PG
Running Time: 480 mins
Retail Price: £24.99
Release Date: 21/11/2016
Content Type: TV Series
Synopsis:
Spike Milligan's Q was one of the most surreal sketch
shows ever made and a huge influence on Monty Python's Flying Circus,
which launched six months after Q first aired in 1969. Now this highly
sought-after BAFTA-nominated series gets its first ever home entertainment
release courtesy of Simply Media, with Q Volume 1: Series 1-3 released
on DVD on 21 November 2016.

Considered one of the best examples of the British Comedy Award winner's
eccentricity and 'stream-of-consciousness' humour, Spike Milligan's
sketches in Q make outrageous leaps from one subject matter or location
to another, stopping with no apparent conclusion, and not shying away from
controversial matters. Filled with invention and taking huge risks, Q
provides the perfect showcase for Milligan's surreal wit.

It is clear to see Monty Python in Spike's work, and the Pythons were
quick to nab director Ian MacNaughton for their own show. The
series features regular appearances from John Bluthal (The Vicar of
Dibley), John D. Collins ('Allo 'Allo), Peter Jones (The
Rag Trade), and Margaret Nolan (Goldfinger), with seasoned
satirists Richard Ingrams and John Wells prominent in the rarely
seen early episodes.

Enjoy the madness and mayhem of Spike Milligan's Q5, Q6, and Q7
again in this landmark DVD release which contains all surviving episodes from
series one, and the complete series two and three.
Special Features:


Video Tracks:
4:3 Black and White / Colour

Audio Tracks:
Mono English

Directed By:
Ian MacNaughton

Written By:
Spike Milligan
Neil Shand

Starring:
Spike Milligan
John Bluthal
John D. Collins
Peter Jones
Margaret Nolan
Richard Ingrams
John Wells

Music From:
Spike Milligan

Costume Designer:
Judy Pepperdine

Visual Effects:
Tony Oxley

Distributor:
Simply Media