Danger Mouse Merry Christmouse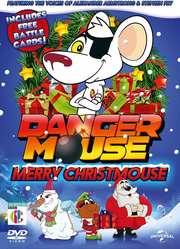 Certificate: U
Running Time: 89 Mins
Retail Price: £6.99
Release Date: 24/10/2016
Content Type: TV Series
Synopsis:
Danger Mouse Merry Christmouse features a special Christmas themed double length episode - The Snowman Cometh - in which Danger Mouse and Penfold are tasked with protecting Santa from the villainous clutches of the festive season destroying Snowman. The embarrassingly inept villain kidnaps Father Christmas and Danger Mouse and Penfold's attempts to thwart the Snowman end in disaster with the villain super powered by Christmas spirit and Santa's hat! In a whirlwind of bah and humbug the Snowman sabotages the festive holiday and threatens to destroy the world by freezing the sun. Danger Mouse must lead an army of elves and a rejuvenated Santa to battle the Snowman and melt his evil plans.

Also on Danger Mouse Merry Christmouse, Danger Mouse meets his match in Sinistermouse when an evil version of our hero escapes from a parallel dimension and joins forces with Baron Greenback; Danger Mouse and Penfold become reluctant parents in There's No Place Like Greenback when it appears the Baron has wiped his own memory; and in Frankensquack's Monster, Professor Squawkencluck's Mum comes to visit and a gigantic enraged rubbish monster is not far behind. Other episodes featured are: Megahurtz Attacks; Happy Boom Day! and Escape From Big Head.

In the new series, which blasted onto screens in 2015, Danger Mouse (Alexander Armstrong) and Penfold (Kevin Eldon) work together to save the world, the alternate universe and Willesden Green. The two best friends take on all new, death defying, secret missions from deep in their hidden London location, beneath the post box, set by cool-headed Colonel K (Stephen Fry), the Head of the British Secret Service. Dave Lamb brings his uniquely sardonic wit to the series in the role of 'The Narrator'.
Special Features:


Related Websites:
http://www.universalpictures.co.uk/yours-to-own
http://www.bbc.co.uk/cbbc/shows/danger-mouse

Starring:
Alexander Armstrong
Kevin Eldon
Stephen Fry
Dave Lamb
Brian Blessed
Richard Ayoade