Review for Love Live! School Idol Project S1 Collection (Dub & Sub)
Introduction
I'm no stranger to revisiting anime titles for review. Occasionally I've reviewed collected boxsets years after single volume releases, more often it's reviewing another region's release of a title after a lacklustre UK release, and more recently it's been the double dip to Blu-ray that has motivated a second, or even third look at a title. But this time is different. It's the first time I've reviewed the same title, from the same distributor, on the same format, within the space of just over six months. Last summer, MVM released Love Live! The Collector's Edition on DVD, complete with artbook and deluxe packaging, although it was a subtitle only release. In the interim, NISA in the US went and commissioned an English dub for the title, and this May, MVM are bringing over that version. Love Live! now gets an upgrade to Collector's Edition Blu-ray as well as the show getting a standard edition re-release on DVD, complete with the new dub. I was surprised to get the check discs of a title I had already reviewed, but one quick spin convinced me that I really need to take a second look at Love Live, even if only on DVD again. The show's the same, so I'll quote the relevant passages from my original review.
Quote:
Honoka Kosaka is facing the end of her dream high school life. She's just started the second year of high school at Otonokizaka High School, only to learn that it will be closing down, due to a lack of new students applying. After a momentary depression, Honoka decides that the only thing to do is to attract more students. The big thing in high schools right now are the School Idols, pop stars representing the best and brightest schools, although Otonokizaka is one school that has avoided the phenomenon thus far. Seeing the awe that students from other schools have for their idols, Honoka decides to start her own School Idol Club at Otonokizaka, along with her best friends Umi and Kotori. It may be an impossible challenge. The Student Council President is just as determined to keep the school open, but starting a new club at this point seems foolhardy and worse, potentially presenting false hope to the students. She isn't likely to approve a School Idol Club. And even if they can get a club off the ground, they'll have to put in a lot of hard work... and they need talent.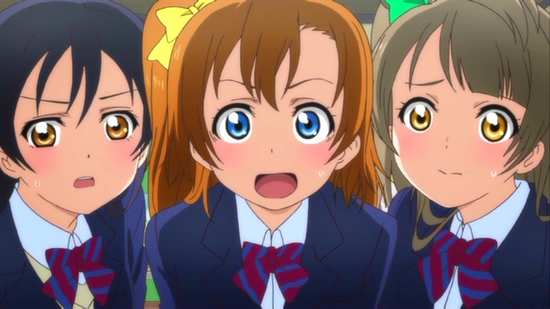 Thirteen episodes of Love Live! School Idol Project Season 1 are presented across 2 DVDs from MVM thus.

Disc 1
1. May Our Dream Come True!
2. Let's Be Idols!
3. First Concert!
4. Maki Rin Pana!
5. Nico Attacks!
6. Who Is The Center?
7. Elichika!

Disc 2
8. What I Want To Do!
9. Wonder Zone!
10. No Senpai Allowed!
11. The Greatest Concert!
12. Friends!
13. μ's Music Start!
Picture
The original subtitle only release was authored by Madman, and went through the usual PAL conversion with 4% speed-up, although the slight softness made it look as if the source was NTSC rather than HD. The big issue was what effect the 4% speed-up had on the music, in a show that is completely about music, but there was also the issue of the original source having second-long black pauses where streaming sites would add adverts, often in wholly illogical places.
This second release deals with both of those issues. These discs appear to be sourced directly from NISA in the US, and are in the original NTSC format, encoded progressively on these discs. You don't have to worry about speed-up, and the playback on progressive equipment actually ups the image quality over the first release. The image is clear and sharp throughout, with strong colours, and a bright and vivid aesthetic to the character and world designs. In terms of design style, it's pretty standard anime fare, but the quality of the animation is detailed and expressive, and the characters are all individual and memorable in their own right, perfect for the fan that will latch onto their favourites, and buy all the tie-in merchandise. This is one show that will switch from 2D traditional to 3D CGI cel-shaded for the music videos, the same way that Super Sonico handled its music video sequences, to better animate the complex choreography of the dance moves, although in terms of maintaining character consistency when it comes to facial features, Super Sonico does it a little better. Incidentally, those pauses to black for adverts are gone as well (these shouldn't be confused with a few intentional fades to black, particularly in the first episode).
Sound
This time, you have the choice between DD 2.0 English and Japanese, with optional translated subtitles, and a signs only track. This being an NTSC release, the audio is present at the correct pitch, and with no need for PAL speed-up to mar the music. This time I watched the show through in English, bar three episodes that I used to check the subtitles. I'm a committed subtitle and original language fan, so the fact that I watched the show pretty much all the way through with the dub should be recommendation enough for it. It's a solid dub, well performed for the most part, with most of the actresses suiting their roles. There is the odd character that sounds too old to be a teenager, and Kotori's voice had some awkward and unnatural phrasing, but by and large I was invested in the emotion of the piece. While the dialogue is in English, the songs remain in Japanese.
The subtitles are in a white font, and are logically formatted; when there's a song and spoken dialogue simultaneously in the Japanese version, the song lyrics will be at the top of the screen, while the dialogue is translated at the bottom, just as it should be. Madman's PAL release stuck everything at the bottom, lyrics, dialogue, and screen text, and at times it was downright incomprehensible. This is a far better release in that respect. Disc 1 has an awkwardly placed layer change, but that's about the only flaw.
Extras
The discs present their content with static menus.
All of the extras are on disc 2, and amount to the textless opening and three textless closings (this time they really are textless, no subtitles at all). You get two of the original TV spots running to 32 seconds, and 5:22 worth of original trailers for the show, the latter with hard subtitles overlaid.
Conclusion
Quote:
I've seen this before. A school threatened with closure, and an after school club coming to its rescue by excelling in their particular discipline. And quite honestly I prefer the version that's set on a giant aircraft carrier and with all the tanks. Facetiousness aside, Love Live! is very enjoyable, a likeable light comedy with a fair bit of catchy pop music to it, and a cast of individual and again, very pleasant characters. It is one of those shows that are engineered and micro-metered to play to its target demographic. Each of its nine main characters is all unique, well-designed, and individual enough for obsessive fans to choose their favourites, developing faux relationships with their idol of choice. In that respect it's no different from any real-world idol group in Japan.


The only real nitpick that I have with the show is its similarity to K-On! It's not the story, as Love Live! actually has a story, whereas K-On! is more slice of life. It's the character of Umi, Honoka's friend, who feels like a direct lift of Mio from K-On! She's tall, with straight black hair, has the most mature voice of the nine, and is consequently the emotionally mature one in the group, and she gets stage fright and is easily spooked despite her mature outlook. It's a wonder she's not left handed and plays bass guitar!


The difference from Girls Und Panzer here is that it isn't the student council initiating things and Honoka reluctant, it's the other way around. When the news gets out that the school is in danger of closing due to a lack of new applications, Honoka looks around for ideas for what will put their school back on the map (this is one of those unreal high school anime where students all love their high school lives), and comes up with the latest universal craze, that of school idols, which combines the Japanese love of pop idols with the ubiquity of girls' high schools. The popular schools all have their select high school girl groups, and if Honoka starts her own group at Otonokizaka, fans will want to come to their school, and it won't have to close. But while Honoka is eager, and gets her best friends Umi and Kotori to help her, the student council president is reluctant, hoping to find another, better way of keeping the school open. So Honoka has to overcome that challenge, as well as eventually get good enough to enter the Love Live! school idol tournament in order to succeed. It has to be accomplished in stages, prove that they are good enough to deserve a chance, prove that they have the talent, the skill and the hard work, start an official school idol club, seemingly impossible when there is already an Idol Study club and eventually convince the student council president that they are worth taking a chance on.


The way the show is structured makes it very easy to get into. Nine central characters would be an overload at first, but the group actually grows over the episodes, despite introducing all nine characters early on. Honoka is the eager young force of nature that comes up with the idea, and Umi is the mature-level headed friend and Kotori the likeable, easy-going friend that she ropes into starting the idol group. When it becomes clear that they need actual songs to sing, they find a first year girl named Maki who's actually a musician, although she's the reluctant stand-offish one. With her come two more first years, the shy wannabe idol Kayo, and her outspoken friend Rin. Then there's the pushy 'failed' idol Nico, who previously started a group, but because of her obsessive nature, wound up alone in the Idol Study club. But her obsessive desire to be an Idol is just what Honoka's group needs. With this seven in place it isn't long before Honoka convinces the student council president that they are worth a shot, and the perfectionist Elichika even joins. With her comes vice-president Nozomi, the wise (and slightly sly) one of the group, who has been clandestinely helping the idol group all along.


That I could name all of the characters, and point out their personality quirks, without once referring to the notes that I took while watching the show, indicates just how well Love Live! succeeds in developing its cast, and making each of them memorable, distinctive, and to some degree likeable. Although I have to admit that if I never hear "Nico-nico-ni!" again, it will be too soon.


But Love Live! is a wholly entertaining character comedy, which works on the way the girls interact and bounce off each other. It is your typical anime in that there's plenty of cutesy fan service, a swimsuit episode, and even some blatant booby grabbing. It knows exactly which target demographic it's aiming at. But it is genuinely funny, wholly light, and enjoyably frivolous, except for the last few episodes, where a little bit of drama occurs, the series of reversals that ever so briefly threatens this growing and blossoming nine-way friendship, before good vibes overcome all. It has its weak points though and it's not a show that you want to think too much about. I did, and got distracted by the question of where they get all their professionally produced music from; I doubt somehow that Maki does it all. But Love Live! will entertain for 13 episodes, and it's good enough to warrant a second season, as well as a feature film spin-off.
This standard release of Love Live is a drastic improvement on the first release. That it has a dub is an immediate attraction to many fans, but the technical quality of the release is a big positive in my eyes. The visual quality, the audio quality, and the clarity of the subtitling all amount to a big leap ahead of the original release. If you are a fan of Love Live... well if you're a fan, you'll be getting the Blu-ray Collector's Edition, but I know that even at this date, not everyone is Blu-ray capable. If you are DVD only, then this standard release is the one to go for. On top of that, if you did previously buy the DVD Collector's Edition, you'll be doing yourselves a big favour by getting this standard release as well, and swapping the discs out. It is that big of an improvement.