Nyan Koi!: Collection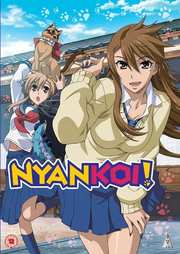 He was allergic to cats... Now he's facing total CATastrophe!
Certificate: 12
Running Time: 308 mins
Retail Price: £29.99
Release Date: 2016
Content Type: TV Series
Synopsis:
Saying that Junpei Kosaka's allergic to cats is something of an understatement. Just thinking about cats can make him sneeze - a fact that seems to be lost on his mother and sister, who both ADORE cats. And if that wasn't bad enough, when Junpei inadvertently damages a statue of a cat deity, he becomes cursed with the ability to understand felines. Now Junpei must perform one hundred great favors for cat-kind or face the fate of being turned into a cat himself!

Life quickly becomes a purrfect hell as every cat in the neighborhood starts sending Junpei their list of "requests." But it's not just the cats: the local Yakuza's daughter is playing cat and mouse, the monk's daughters are acting catty, Junpei's childhood best friend is ready to use him as a scratching post, and the girl he has a secret crush on is as cat crazy as the rest!

Contains episodes 1-12.
Special Features:
Textless Credits
Trailers

Video Tracks:
1.78:1 anamorphic widescreen

Audio Tracks:
Dolby Digital 2.0 Stereo English
Dolby Digital 2.0 Stereo Japanese

Subtitle Tracks:
English

Directed By:
Keiichiro Kawaguchi

Written By:
Shinichi Inotsume
Sato Fujiwara

Starring:
Shintaro Asanuma
Yuka Iguchi
Atsuko Tanaka
Eri Nakao
Haruka Tomatsu
Jun Fukuyama
Rina Satou
Ryoko Shiraishi
Yu Kobayashi
Connor Leach
Lesley Pedersen
Cynthia Martinez
Emily Neves
Jay Hickman
Kara Greenberg
Maggie Flecknoe
Marcy Bannor
Monica Rial

Music From:
Manabu Miwa
Shigenobu Ookawa

Editor:
Syota Migiyama

Producer:
Jiyu Ogi
Junichiro Tanaka
Naoko Okada
Shinichi Nakamura
Tomohiro Fujita

Distributor:
MVM