Review for Make 'Em Laugh: The Complete Series
There was quite a trend for compilation TV shows in the eighties and nineties. Whether they were compilations of old TV comedies or (like this one) focused on movies, this was an excellent way for companies like Carlton to leverage more value out of their licencing of large chunks of the Rank back catalogue. They were also a lot of fun too.
For an audience raised on scarcity (with just three TV channels and no video), compilation shows offered a rare treat – to see the best bits of a bunch of movies all in one go. Disney capitalised on this every Christmas during the sixties and seventies with a popular clips show for example, usually linked by a popular presenter of the day. Of course, when film trailers and countless clips are available at the click of a mouse these days, their appeal has become much more limited.
'Make 'em Laugh' aired originally in 1993, actually quite late for the format and probably at the fag-end of its popularity as an approach. However, the series mined such a rich seam across its six 25 minute episodes that it proved popular enough to be aired again a year or so later.
Unlike many clips shows, it didn't bother with any link person. Even the 'That's Carry On' feature length clips special had Barbara Windsor and Kenneth Williams linking each segment. I seem to recall Denis Norden doing something similar too but thanksfully no precious airtime is wasted here. It's wall to wall clippy-goodness.
Although some of the clips may seem to be TV related, they are all taken from feature films though some (like On the Buses or George and Mildred) were TV spin-off movies. These are liberally mixed with generous helpings of Carry On, St. Trinians, Doctor films, and a couple of clips from a personal favourite of mine, the wholly underated 'The Rebel' with Tony Hancock including the classic 'Aphrodite at the Waterhole' sequence.
Mrs. Crevatte:
(Irene Handl): Here, have you been having models up here - have there been naked women in my establishment?

Hancock:
Of course there haven't. I can't afford thirty bob an hour. I did that from memory. That is women as I see them.
Mrs. Crevatte:
Oh! ... You poor man!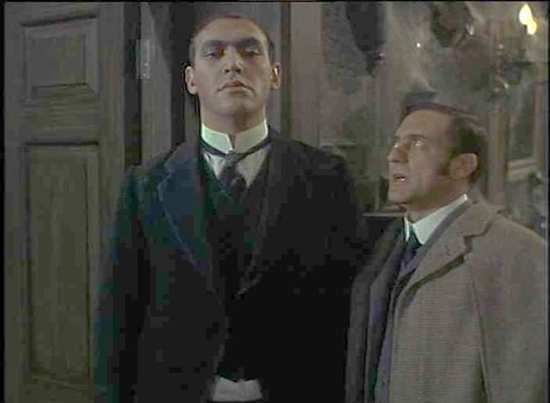 The series is packed to the gunnels with joyous clips like that one, many of which will have you reaching for the original movies. Of course, it's wildly variable stuff, some much funnier than others, but as result it has a kind of 'chocolate box' feel to it where you're never quite sure what you're going to get.
The series is arranged thematically (see below menu image) and features excerpts from an array of classic comedic actors including Alastair Sim, Frankie Howerd, Terry-Thomas, John Cleese, Benny Hill, Will Hay, Kenneth Williams, Harry H. Corbett, Wilfrid Brambell, Mollie Sugden, Leslie Phillips, Marty Feldman, Warren Mitchell, Dick Emery and Sid James.
There are extracts from all the following films - Up Pompeii, Steptoe and Son, The Rebel, Till Death Us Do Part, Holiday on the Buses, Clockwise, The Great St. Trinian's Train Robbery, Are You Being Served?, Every Home Should Have One, Rhubarb, Ooh, You Are Awful, The Ghost of St. Michael's and numerous Carry Ons.
I seem to have most of these in my collection already but this didn't stop me enjoying the clips.
As this aired in 1993, all films have been cropped to 4:3 (although some were made that way) which was a constant disappointment back in the day. The integrity of that disappointment remains here in full today, along with some slightly dodgy, over-dark transfers. I feel certain that this isn't a Network transfer issue, just a reflection of what was deemed good enough back in the day.
'Make 'em Laugh' would make an excellent Christmas present for anyone over the age of fifty who remembers these film's and TV shows with nostalgic fondness. It may appeal to others too, but only those with a pre-disposition to this era of politically incorrect and often 'gentle' humour. Great stuff!