SIGNATURE SOUNDS THE MUSIC OF WWE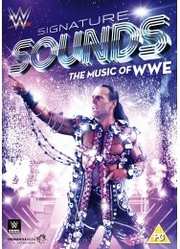 Certificate: PG
Running Time:
Retail Price: £5.99
Release Date: 31/08/2015
Content Type: TV Series
Synopsis:
Getting to the big dance takes style and grace and only those who are pure of sound and rhythm are fit to enter the grandest stage. And if your soiree involves a ring, a ref and thousands of screaming fans, a signature sound makes all the difference.

Now, countdown the greatest 25 entrance themes of all time with Signature Sounds: The Music of WWE. From shattering glass to chilling bell tolls, to seductive melodies fit for the ball, these are the tune that ring in the arrival of your favourite WWE Superstars.

Includes insider commentary on 25 classic themes from the WWE Superstars, Divas and the artists behind the tracks.
Special Features:
DVD Extras

Shawn Michaels – Tell Me a Lie
Val Venis – Hello Ladies
Hakushi – Angel
Billy Gunn – Ass Man
Maria – Legs Like That
William Regal – He's a Man
The Making of GoldLust
The Music of WWE Studios

Related Websites:
http://www.wwedvd.co.uk/signature-sounds-music-p-12026.html

Distributor:
FremantleMedia International