One Piece Collection 8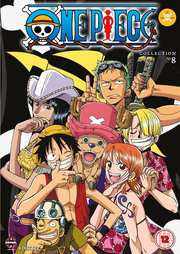 Set sail for One Piece!
Certificate: 12
Running Time: 520 mins
Retail Price: £34.99
Release Date: 2014
Content Type: TV Series
Synopsis:
Lightning bolts rain from the heavens and cloud-dwelling citizens run for their lives as Luffy and Eneru go toe to toe to determine the fate of Skypiea! The rubber-man is determined to make this exceedingly evil villain pay for his sins against the innocent, but Eneru won't be easily defeated. With his electric ark chock full of gold, the heinous holy man sets in motion a petrifying plan to obliterate life on Angel Island!

Luffy is ready to rumble, but his shipmates are falling one by one, and his punching power bottoms out after Eneru encases his hand in a giant ball of gold. Only one hope remains: Nami and Luffy must risk their lives in a desperate attempt to ring the sacred bell of Shandora - and chase away Eneru's looming cloud of death!

Contains episodes 183-205.
Special Features:
Textless Credits
Audio Commentaries

Video Tracks:
4:3 regular

Audio Tracks:
Dolby Digital 5.1 Surround English
Dolby Digital 2.0 Stereo Japanese

Subtitle Tracks:
English

Directed By:
Kônosuke Uda
Hiroaki Miyamoto
Junji Shimizu
Munehisa Sakai

Written By:
Hirohiko Uesaka
Junki Takegami
Eiichiro Oda

Starring:
Akemi Okamura
Hiroaki Hirata
Kappei Yamaguchi
Ikue Ohtani
Kazuya Nakai
Mayumi Tanaka
Yuriko Yamaguchi
Colleen Clinkenbeard
Eric Vale
Brina Palencia
Luci Christian
Sonny Strait
Christopher R. Sabat
Stephanie Young

Music From:
Kouhei Tanaka
Shiroh Hamaguchi

Editor:
Masahiro Goto
Nobuko Maki
Shinichi Fukumitsu

Producer:
Yoshihiro Suzuki

Distributor:
Manga Entertainment