Dolphins: Spy in the Pod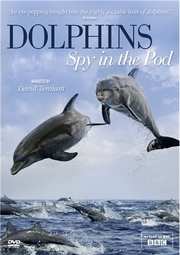 Certificate: E
Running Time: 120 Mins
Retail Price: £17.99
Release Date: 17/02/2014
Content Type: TV Series
Synopsis:
From the creators of Earthflight and Penguins – Spy In The Huddle comes an awe-inspiring new two-part series Dolphins – Spy In The Pod.

Narrated by David Tennant this fascinating series shows some of the most captivating and clever animals on the planet as never before. It recently aired on BBC One and comes to DVD and Blu-ray on 17 February 2014.

From Spy Dolphin to Spy Tuna and Turtle, for the first time 13 camouflaged spy creatures infiltrate the secret underwater world of dolphins. Swimming right alongside them, these new spies reveal unique moments in the dolphins' lives – catching the waves with surfing bottlenose dolphins, discovering a megapod of superfast spinner dolphins and narrowly escaping the amorous advances of a turtle.
Special Features:


Related Websites:
http://www.bbcshop.com/science+nature/dolphins-spy-in-the-pod-dvd/invt/av3099