WWE Straight to the Top: The Money in the Bank Ladder Match Anthology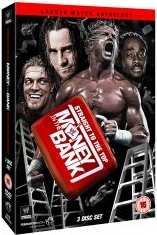 Certificate: 15
Running Time:
Retail Price: £19.99
Release Date: 04/11/2013
Content Type: Movie
Synopsis:
Hosted by The Miz, the compilation features every Money in the Bank Ladder Match in history. The match debuted at WrestleMania 21 in 2005, quickly becoming a WrestleMania tradition and in 2010 proved so popular that it was given its own annual PPV event.

Several top Superstars have been Money in the Bank winners including John Cena, Kane, Edge, CM Punk (twice!), Rob Van Dam and many more. 11 of the first 12 winners have used the match as a springboard to winning a championship, and several times the match has helped a Superstar who has never win a World Championship break through to claim their first.

Much like the Royal Rumble Match, the Money in the Bank match represents a golden opportunity for a Superstar to achieve immortality, and its entire lineage is presented here.
Special Features:
WrestleMania 21, April 3, 2005 - 1st Ever Money in the Bank Ladder Match
Chris Jericho vs. Chris Benoit vs. Shelton Benjamin vs. Edge vs. Christian vs. Kane

WrestleMania 22, April 2, 2006 - Money in the Bank Ladder Match
Ric Flair vs. Rob Van Dam vs. Shelton Benjamin vs. Matt Hardy vs. Finlay vs. Bobby Lashley

WrestleMania 23, April 1, 2007 - Money in the Bank Ladder Match
Jeff Hardy vs. King Booker vs. Finlay vs. CM Punk vs. Mr. Kennedy vs. Matt Hardy vs. Randy Orton vs. Edge

WrestleMania XXIV, March 30, 2008 - Money in the Bank Ladder Match
Chris Jericho vs. Shelton Benjamin vs. John Morrison vs. Carlito vs. CM Punk vs. MVP vs. Mr. Kennedy

WrestleMania 25, April 5, 2009 - Money in the Bank Ladder Match
CM Punk vs. Kofi Kingston vs. MVP vs. Finlay vs. Christian vs. Kane vs. Shelton Benjamin vs. Mark Henry

WrestleMania 26, March 28, 2010 - Money in the Bank Ladder Match
Kane vs. Christian vs. Kofi Kingston vs. MVP vs. Matt Hardy vs. Shelton Benjamin vs. Evan Bourne vs. Drew McIntyre vs. Jack Swagger vs. Dolph Ziggler

Money in the Bank, July 18, 2010 - SmackDown Money in the Bank Ladder Match
Big Show vs. Kane vs. Kofi Kingston vs. Christian vs. Matt Hardy vs. Drew McIntyre vs. Dolph Ziggler vs. Cody Rhodes

Money in the Bank, July 18, 2010 - Raw Money in the Bank Ladder Match
Randy Orton vs. John Morrison vs. Evan Bourne vs. Mark Henry vs. Edge vs. Chris Jericho vs. The Miz vs. Ted DiBiase

Money in the Bank, July 17, 2011 - SmackDown Money in the Bank Ladder Match
Kane vs. Sin Cara vs. Daniel Bryan vs. Sheamus vs. Wade Barrett vs. Cody Rhodes vs. Justin Gabriel vs. Heath Slater

Money in the Bank, July 17, 2011 - Raw Money in the Bank Ladder Match
Rey Mysterio vs. Kofi Kingston vs. Alex Riley vs. Evan Bourne vs. Alberto Del Rio vs. The Miz vs. R-Truth vs. Jack Swagger

Money in the Bank, July 15, 2012 - Money in the Bank Ladder Match for a World Heavyweight Championship Contract
Christian vs. Sin Cara vs. Santino Marella vs. Tyson Kidd vs. Cody Rhodes vs. Dolph Ziggler vs. Tensai vs. Damien Sandow


Money in the Bank, July 15, 2012 - Money in the Bank Ladder Match for a WWE Championship Contract
John Cena vs. Kane vs. Big Show vs. Chris Jericho vs. The Miz

Money in the Bank, July 14, 2013 - Money in the Bank Ladder Match for a World Heavyweight Championship Contract
Cody Rhodes vs. Dean Ambrose vs. Wade Barrett vs. Damien Sandow vs. Jack Swagger vs. Antonio Cesaro vs. Fandango

Money in the Bank, July 14, 2013 - Money in the Bank Ladder Match for a WWE Championship Contract
CM Punk vs. Sheamus vs. Daniel Bryan vs. Randy Orton vs. Christian vs. Rob Van Dam

Related Websites:
http://www.wwedvd.co.uk/straight-mitb-ladder-match-anthology-p-11761.html

Distributor:
Fremantle Media Entertainment