Teenage Mutant Ninja Turtles Movie Collection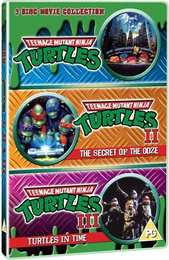 Certificate: PG
Running Time: 262 Mins
Retail Price: £14.99
Release Date: 28/10/2013
Content Type: Movie
Synopsis:
Get ready to raise some shell. For the first time ever in one complete collection and for the first time ever on Blu-ray come the original live action Teenage Mutant Ninja Turtles I, II and III. Cowabunga!

So join Leonardo, Michealangelo, Donatello and Raphael and their loyal sensei Splinter as they battle evil enemies in the original three rip-roaring, action-packed adventures which will be released as a bumper three-disc set for the first time on Blu-ray along with a DVD version on 28 October 2013 thanks to Mediumrare Entertainment.

Teenage Mutant Ninja Turtles I The Original Movie: For years Michaelangelo, Leonardo, Donatello and Raphael have lived deep in the sewers of New York, learning the art of Ninja from their master, Splinter. But when a massive crime wave sweeps the city, the man-sized, pizza eating Teenage Mutant Ninja Turtles join forces with reporter April O'Neil and vigilante Casey Jones to combat the corrupt gang of criminals and their mysterious leader…the evil Shredder.

Teenage Mutant Ninja Turtles II The Secret Of The Ooze: The turtles are up to their shells in trouble when a canister of toxic ooze falls into the hands of the evil master Shredder. Aided by their new pal Keno, the pizza delivery boy, the turtles take on the Shredder and his mutant allies, Rahzar and Tokka, to capture and destroy the dangerous ooze and make the world safe for Turtles, humans and pizza.

Teenage Mutant Ninja Turtles III Turtles In Time: When April O'Neil buys what she thinks is a harmless Japanese antique its magical powers are revealed when she is thrust back in time 400 years to 17th century Japan and into the hands of an evil Emperor. Our turtley awesome heroes only have days to travel back in time, defeat ancient warriors, rescue April and somehow make it back home while the pizza's still hot.
Special Features:
Behind the Shells: Making of Teenage Mutant Ninja Turtles
Trailers
Still Gallery

Related Websites:
http://www.mediumrare.uk.com/

Directed By:
Steve Barron, Michael Pressman, Stuart Gillard

Starring:
Elias Koteas, Judith Hoag, Corey Feldman, Sam Rockwell, Ken Scott, Paige Turco,

Distributor:
Mediumrare Entertainment