Twilight Zone, The: Vol 15 (UK)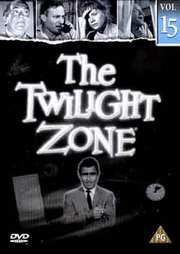 Mind the signpost... the Twilight Zone ahead!
Certificate: 15
Running Time: 100 mins
Retail Price: £15.99
Release Date:
Content Type: TV Series
Synopsis:
Escape Clause - Episode 6
A hypochondriac (David Wayne) exchanges his soul for immortality and indestructibility. When life soon becomes very boring, his unsuccessful attempts to find new thrills bring unexpected results.

Nervous Man In A Four Dollar Room - Episode 39
Ordered to commit a murder he doesn`t want to perform, a small-time hood nervously looks in the mirror and sees the man he could have been - confident, strong... and determined to get out.

The Midnight Sun - Episode 75
The Earth`s orbit has suddenly changed, drawing ever closer to the sun and promising eminent destruction. Or has it? Who really knows how the Earth may be doomed?

A Kind Of Stopwatch - Episode 124
The world`s biggest bore and most avid talker gets a magical stopwatch that can stop everything except him. But when he misuses it, a wonderful conversation piece becomes a real party killer.
Special Features:
Interactive Menus
Scene Access
Special "Inside The Twilight Zone" section, written by Marc Scott Zigree, author of the bestseller, The Twilight Zone companion, Includes Biographical info on Rod Serling
History of The Twilight Zone
Reviews of each episode
Cast information and a season-by-season commentary!
Digitally re-mastered episodes
Twilight Zone Trivia

Video Tracks:
Standard 1.33:1

Audio Tracks:
Dolby Digital Mono English

Subtitle Tracks:
French
Italian
Swedish
Spanish
Dutch

Written By:
Rod Serling
Lawrence Menkin
Richard Matheson
George Clayton Johnson
Jerome Bixby
Charles Beaumont

Starring:
Rod Serling

Casting By:
Ethel Winant
Lynn Stalmaster
James Lister

Soundtrack By:
Franz Waxman
Van Cleave
Leith Stevens
Fred Steiner
Leonard Rosenman
Lucien Moraweck
Bernard Herrmann
Jerry Goldsmith
René Garriguenc
Marius Constant

Director of Photography:
Harry J. Wild
Harkness Smith
Robert Pittack
Joseph LaShelle
George T. Clemens

Editor:
Bill Mosher
Jason H. Bernie
Leon Barsha

Producer:
Rod Serling
Del Reisman
Buck Houghton
Herbert Hirschman
Bert Granet
William Froug

Distributor:
Image Entertainment