The ABCs Of Death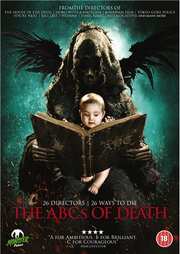 Certificate: 18
Running Time: 123 mins
Retail Price: £9.99
Release Date: 22/07/2013
Content Type: Movie
Synopsis:
The ABCs of Death is perhaps the most ambitious anthology film ever conceived with productions spanning fifteen countries and featuring segments directed by over two dozen of the world's leading talents in contemporary genre film, including the directors of House of the Devil, Hobo with a Shotgun, A Serbian Film, Tokyo Gore Police, You're Next & four British Directors - Ben Wheatley (Sightseers), Simon Rumley (Red, White & Blue), Jake West (Doghouse) & Leeds based Lee Hardcastle, who with his claymation short, won a competition to be the final Director. Inspired by children's educational books, the motion picture is comprised of twenty-six individual chapters; each helmed by a different director assigned a letter of the alphabet. The directors were then given free rein in choosing a word to create a story involving death. Provocative, shocking, funny and ultimately confrontational, The ABCs of Death is the definitive vision of modern horror diversity.
Special Features:
Filmmaker Commentary
A Is For Apocalypse - Oil Burns Visual Effects
B Is For Bigfoot - Making of
C Is For Cycle - Deleted Scenes
D Is For Dogfight - Making of
H Is For Hydro-Electric Diffusion - Behind the Scenes, The Making of Bertie the Bulldog & Frau Scheisse and Finished Short vs. Behind the Scenes
I Is For Ingrown - Making of
J Is For Jidai-Geki - Behind the Scenes
R Is For Removed - Behind the Scenes Photo Gallery
T Is For Toilet - Behind the Scenes
V Is For Vagitus - Deleted Scene, Behind the Scenes and Animatics.
W Is For WTF! - Behind the Scenes, Bonus Flubs! and Star-Beast Outtakes
Do You Know Your ABC's Trailer
...and more!

Video Tracks:
1.78:1

Audio Tracks:
Dolby 2.0

Directed By:
Various

Starring:
Ingrid Bolsø Berdal, Kyra Zagorsky, Iván González, Dallas Malloy, Lee Hardcastle, Erik Aude, Lucy Clements, Darenzia, M[at]hct, Hiroko Yashiki, Je$$ica, Fraser Corbett, Peter Pedrero, Sarah Bonrepaux & Arisa Nakamura

Distributor:
Monster Pictures