WWE BRET "HITMAN" HART: DUNGEON COLLECTION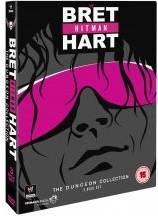 Certificate: 15
Running Time: 410 Mins
Retail Price: £19.99
Release Date: 13/05/2013
Content Type: Movie
Synopsis:
For nearly 30 years,Bret "Hit Man" Hart travelled the globe proving he was "The Best There Is, The Best There Was, and the Best There Ever Will Be".

From his roots in his family's own Stampede Wrestling, to the bright lights of WWE, WCW, and his watershed return to the ring in 2010, no Superstar could match his unmistakable presence in the ring. Now in Bret "Hit Man" Hart: The Dungeon Collection, the Hit Man himself compiles his best matches never-before-released on DVD. Bret takes the viewer behind each match in a brand new, revealing interview detailing the inside stories surrounding these rare matches.

Over 8 hours of in-ring action is presented, including classics from the Stampede Wrestling vault as well as vintage WWE bouts against the top stars of the 80s and 90s.
Special Features:
2-out of-3 Falls Match for the British Commonwealth Jr. Heavyweight Championship
Bret Hart vs. Dynamite Kid

Georgia Championship Wrestling, September 1979
Bret Hart vs. Buzz Sawyer

North American Heavyweight Championship Match
Bret Hart vs. Leo Burke

Bret Hart vs. Dynamite Kid

WWE Tag Team Championship Match
Hart Foundation vs. The Islanders

Bret Hart vs. Andre the Giant

Bret Hart vs. Mr. Perfect

Hart Foundation vs. The Twin Towers

Bret Hart vs. Tiger Mask II

Intercontinental Championship Match
Bret Hart vs. Ric Flair

Bret Hart vs. Undertaker

Bret Hart vs. Bam Bam Bigelow

WWE Championship Match
Bret Hart vs. Diesel

No Holds Barred
Bret Hart vs. Owen Hart

Bret Hart vs. Jean-Pierre Lafitte

Bret Hart vs. Stone Cold Steve Austin

WWE Championship Match
Bret Hart vs. The Patriot

WCW United States Championship Match
Bret Hart vs. Booker T

Semi-Finals Match for the WCW Championship
Bret Hart vs. Sting

Related Websites:
http://www.wwedvd.co.uk/bret-hitman-hart-dungeon-collection-p-11744.html?osCsid=f4beefc61f476c479b4a57a11c558395

Distributor:
Fremantle Home Entertainment