Breaking Glass (Uncut British Edition)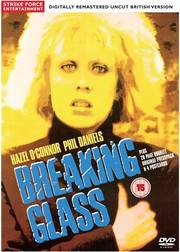 Certificate: 15
Running Time: 119 mins
Retail Price: £19.99
Release Date: 23/11/2012
Content Type: Movie
Synopsis:
Kate Crowley is an idealistic young musician who performs angry songs that rail against a de-humanising world. Hustler Danny has ambitions for her, and almost overnight she is transformed into a huge star. Once at the top, however, the pressure ratchets up. Kate's trusted musicians are manoeuvred out of her band and she is left at the mercy of a ruthless and exploitative music industry. Before long, the social disintegration of the external world begins to mirror Kate's tragic descent into oblivion...

Hazel O'Connor gives the performance of a lifetime as Kate, who learns the hard way that fame comes with strings. Phil Daniels stars as the grasping manager who finds himself out of his depth, and Jon Finch plays the manipulative record producer who comes between him and Kate. Jonathan Pryce makes an early screen appearance as Kate's sensitive but drug-addicted saxophonist.

Released in 1980, Breaking Glass is the cult movie that helped to define the post-punk, pre-new wave era. The soundtrack features such classics as 'Will You?', 'Eighth Day', 'Give Me An Inch' and 'Writing On The Wall'. This collector's edition features the digitally remastered film in its original British version, uncut and in widescreen.
Special Features:
Region 0
Original "Breaking Glass" Cinema Trailer (1980, 2 mins).
Hazel O'Connor Remembers "Breaking Glass" (2012, 37 mins).
28 Page Illustrated Viewing Notes Booklet Written By Film Historian Marcus Hearn.
20 Page Reproduction Of Original 'Breaking Glass' Press Pack from 1980.
4 Colour Postcards Of Original Breaking Glass Promotional Posters from the UK, Hungary, France and Germany.

Directed By:
Brian Gibson

Written By:
Brian Gibson

Starring:
Hazel O'Connor
Phil Daniels
Jon Finch
Jonathan Pryce
Peter-Hugo Daly
Mark Wingett

Soundtrack By:
Hazel O'Connor
Tony Visconti

Music From:
Hazel O'Connor
Tony Visconti

Director of Photography:
Stephen Goldblatt

Editor:
Michael Bradsell

Producer:
Davina Belling .... producer
John Comfort .... associate producer
Clive Parsons .... producer

Executive Producer:
Dodi Fayed .... Executive Producer

Distributor:
Cherry Red