nWo: The Revolution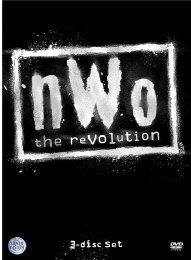 Certificate: 15
Running Time: 410 Mins
Retail Price: £17.99
Release Date: 26/11/2012
Content Type: Movie
Synopsis:
Documentary that sets out to tell the story of the New World Order (NWO), a professional wrestling stable within WCW and, subsequently, WWE.

The stable, whose wrestlers included Hulk Hogan, Kevin Nash and Scott Hall, set themselves up as rebels and revolutionaries in WCW.

When the franchise was bought by WWE in 2001 the NWO set out to perform a similar role in the world's largest wrestling company.

This three disk set is filled with matches from WCW and from WWE and includes the original reveals of the original three members of the nWo.
Special Features:
Scott Hall's Nitro Debut
Nitro – 27th May, 1996

Kevin Nash's Nitro Debut
Nitro – 10th June, 1996

"Rowdy" Roddy Piper confronts Eric Bischoff
18th November, 1996

Hollywood Hulk Hogan confronts "Rowdy" Roddy Piper
30th December, 1996

The nWo's WWE Debut
No Way Out – 17th February, 2002

The Outsiders vs. Randy "Macho Man" Savage, Sting & Lex Luger
Bash at the Beach – 7th July, 1996

WCW World Heavyweight Championship Match
The Giant vs. Hollywood Hogan
Hog Wild – 10th August, 1996

WCW World Tag Team Championship Match
The Outsiders vs. Harlem Heat
Halloween Havoc – 27th October, 1996

Syxx vs. The Bounty Hunter
nWo Saturday Night – 9th November, 1996

WCW World Tag Team Championship Match
The Outsiders vs. The Steiner Brothers
Souled Out – 25th January, 1997

WCW World Heavyweight Championship Match
Hollywood Hogan vs. "Rowdy" Roddy Piper
SuperBrawl VII – 23rd February, 1997

Hollywood Hogan & Dennis Rodman vs. Lex Luger & The Giant
Bash at the Beach – 13th July, 1997

Las Vegas Sudden Death Match
Diamond Dallas Page vs. Randy "Macho Man" Savage
Halloween Havoc – 26th October, 1997

WCW World Heavyweight Championship Match
Sting vs. Hollywood Hogan
Nitro – 29th December, 1997

No Disqualification Match for the WCW World Heavyweight Championship
Hollywood Hogan vs. Randy "Macho Man" Savage
Nitro – 20th April, 1998

Match for Control of the WCW World Tag Team Championship
Sting vs. The Giant
Great American Bash – 14th June, 1998

Hollywood Hogan & Eric Bischoff vs. Jay Leno & Diamond Dallas Page
Road Wild – 8th August, 1998

War Games Match to Determine the #1 Contender for the WCW World Heavyweight Championship
Team WCW vs. Team Hollywood vs. Team Wolfpack
Fall Brawl – 13th September, 1998

No Disqualification Match for WCW World Heavyweight Championship
Goldberg vs. Kevin Nash
Starrcade – 27th December, 1998

WCW World Heavyweight Championship Match
Goldberg vs. Bret "Hit Man" Hart
Nitro – 20th December, 1999

Hollywood Hogan, Kevin Nash & Scott Hall vs. The Rock & "Stone Cold" Steve Austin
RAW – 11th March, 2002

Related Websites:
http://www.silvervision.co.uk/products/nWo-The-Revolution-DVD-3-Discs.html

Distributor:
Clear Vision Ltd