Filthy Rich and Catflap 25th Anniversary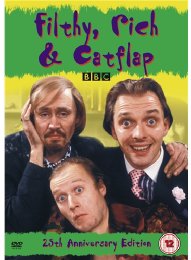 Certificate: 12
Running Time: 205 Mins
Retail Price: £12.99
Release Date: 03/09/2012
Content Type: Movie
Synopsis:
In this hilarious and suitably outrageous series that followed hot on the heels of 'The Young Ones', Nigel Planer, Rik Mayall and Adrian Edmondson join forces under the penmanship of Ben Elton to break the fourth wall with a sledgehammer in Filthy, Rich and Catflap.

Mayall stars as Richie Rich, the entirely un-famous and massively self-centred z-list celebrity and television presenter, supported by his doggedly loyal entourage of one, Edmondson's Eddie Catflap. Represented by their dour agent and occasional pornographer Ralph Filthy (Planer), the series finds Rich and cohorts leaving a trail of dead milkmen in their wake, appearing on TV-am, engaging with a morally lax Australian press magnate, entertaining new game show formats and being arrested for shoplifting - all of which turn out to be the least of their problems.

Featuring a plethora of guest stars including Barbara Windsor, The Nolan Sisters, Stephen Fry, Hugh Laurie, Harry Enfield, Mel Smith, Anne Diamond and Midge Ure, this 25th Anniversary Edition is an opportunity to celebrate the no-holds-barred talent of a comic writing and performance team at the top of their craft. It may be Thatcher's Britain, but the world belongs to Filthy, Rich and Catflap.
Special Features:
Cast Filmographies
Picture Gallery

Related Websites:
http://www.acornmediauk.com/filthy-rich-and-catflap-25th-anniversary-edition.html

Written By:
Ben Elton

Starring:
Rik Mayal, Ade Edmondson, Nigel Planer,