The Harry Novak Collection - Volume 1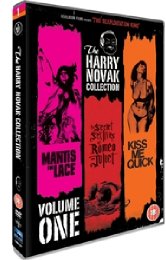 Certificate: 18
Running Time: 4 hours and 7 minute
Retail Price: £13.99
Release Date: 21/04/12
Content Type: Movie
Synopsis:
Sultan of Sexploitation. King of Camp. Just a few names given to the legendary film-maker of cinema's greatest schlock movies. Producing a slew of entertainingly trashy exploitation flicks throughout the 60s and 70s, Novak ran the gamut from sexy soft-core smut to sleazy grindhouse thrillers. If you're a fan of cutie nudie style cinema (be honest, who isn't?) check out Volume One and discover what HARRY NOVAK is all about.

Mantis In Lace (Lila) A psychedelic psycho classic! Lila (Susan Stewaki) is a go-go dancer who gets a charge out of turning guys on. Events take a crazy twist after she is introduced to a cocktail of LSD and Methadrine by hippie-stud Tiger. Tripping her brains out to flashing colours and imaginary attacking bananas, Lila takes a meat cleaver to Tiger, hacking him to pieces. This is just the beginning of what may be the only film ever made to link homicidal maniac with soft foods! In between hackings, Lila continues dancing at the club, flashing her cute little drug soaked boobs, and flipping out on acid flashbacks. Looks like she's on a baaaaaad trip!

The Secret Sex Lives of Romeo & Juliet Shakespeare's romantic tragedy receives the Novak makeover, injecting lust-filled laugh-in style gags into its steamy sex scenes. The setting is the famous Globe Theatre in Old London, where the Bard's play is "performed to match the spirit of ribald time it portrayed". Busty redheads perform mock fellatio and naked flesh flies thick and fast as the title characters profess their love (and lust) for each other and anyone else. If only all Shakespeare was like this!

Kiss Me Quick A heady mix of monsters and mammaries! Novak's first feature film from 1964 kick-started his prolific career in the adult entertainment industry. Sterilox, an alien with an uncanny resemblance to Stan Laurel, is sent to Earth to find the perfect female specimen. Hooking up with mad scientist Dr Breedlove, they develop a potion that transforms three busty babes into gyrating topless go-go dancers. "Dance, you little sex bombs! Whirl you little dervishes!"
Special Features:
Audio Commentary with Harry Novak on 'Kiss Me Quick'
Original Theatrical Trailers

Related Websites:
http://www.revfilms.co.uk/feature-film-dvd/352.html

Directed By:
William Rotsler
Peter Perry Jr.


Written By:
William Rotsler

Starring:
Susan Stewaki
Susan Stewart, Steve Vincent, James Brand, Vic Lance, Pat Barrington, Forman Shane, William Rotsler, Dee Lockwood, Wendell Swink, Mickey Jines, Max Gardens, Frank A. Coe & Jackie De Witt

Executive Producer:
Harry Novak

Distributor:
Revelation Films