The Epic Journey of Dwayne 'The Rock' Johnson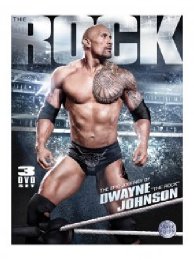 Certificate: 15
Running Time: 414 MIns
Retail Price: £29.99
Release Date: 23/04/2012
Content Type: Movie
Synopsis:
He electrified a generation of sports entertainment fans with his brash style, superb athleticism, and uproarious interviews.
He held the WWE Championship a record seven times, and was known for legendary battles with ''Stone Cold'' Steve Austin, Triple H, Mick Foley, Undertaker, and more. And at the peak of his popularity, he made a move to conquer a new industry, becoming an enormous movie star. Now, he's back in WWE, ready to main event the biggest WrestleMania in history, ''The People's WrestleMania.''
In the exciting buildup to WrestleMania XVIII, fans can, for the first time ever on DVD, relive the exciting life and times of the Rock. Packed with brand new interviews as well as a selection of the Rock's biggest career-spanning bouts, moments, and promos, this DVD set will electrify every member of Team Bring It!
Special Features:
Survivor Series Elimination Match
Rocky Maivia, Marc Mero, Barry Windham & Jake "The Snake" Roberts vs. Hunter Hearst- Helmsley, Goldust, Crush & Jerry "The King" Lawler

Ladder Match for the Intercontinental Championship
The Rock vs. Triple H

Triple Threat Cage Match
The Rock vs. Mankind vs. Ken Shamrock

"I Quit" Match for the WWE Championship
The Rock vs. Mankind

No Holds Barred Match for the WWE Championship
The Rock vs. Stone Cold Steve Austin

Triple Threat Match for the WWE Championship
The Rock vs. Kurt Angle vs. Triple H
SummerSlam

World Tag Team Championship Match
The Rock & Undertaker vs. Edge & Christian

The Rock vs. Ric Flair

WWE Undisputed Championship Match
The Rock vs. Brock Lesnar
SummerSlam

The Rock vs. Hulk Hogan
No Way Out

The Rock returns to Raw

The Rock Concert II

The WrestleMania Guest Host

The People's WrestleMania

Related Websites:
http://www.silvervision.co.uk/products/The-Epic-Journey-of-Dwayne-The-Rock-Johnson-DVD-3-Discs.html

Distributor:
Clear Vision Ltd