Parkin's Patch - The Complete Series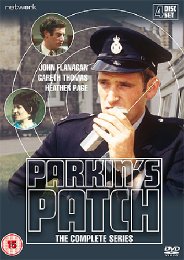 Certificate: 15
Running Time: 650 mins
Retail Price: £40.41
Release Date: 23/04/2012
Content Type: TV Series
Synopsis:
Before HEARTBEAT there was PARKIN'S PATCH...

A forerunner to Heartbeat, Parkin's Patch chronicles the work of a police constable and his colleagues in a fictional village in the North Yorkshire Moors during the late 1960s. Available for the first time, this set contains all 26 episodes, boasting early appearances by Warren Clarke, Pauline Collins, Michael Elphick, Peter Sallis and James Grout; among the production crew are multiple-award-winning directors Michael Apted (Enigma) and Stephen Frears (The Queen), while writers include Softly Softly and Z Cars contributors Robert Barr and Allan Prior, and Sweeney creator Ian Kennedy Martin.

Looking in detail at the unit beat system of policing amid spectacular moorland locations, the series sees P.C. Moss Parkin (John Flanagan - Softly Softly) and D.C. Ron Radley (Gareth Thomas - Blake's 7) encountering cases ranging from petty pilfering to abduction, sheep rustling to missing persons. And while village policemen may enjoy certain perks, living within Fickley's close-knit community also involves a dangerous proximity to criminals for both Parkin and his wife, Beth...
Special Features:


Video Tracks:
1.33:3 Colour / Black and White

Audio Tracks:
Mono