Dr. Strangelove: Special Edition (US)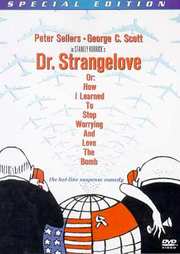 The hot-line suspense comedy
Certificate: PG
Running Time: 90 mins
Retail Price: $29.95
Release Date:
Content Type: Movie
Synopsis:
Stanley Kubrick`s celebrated black comedy classic about an "accidental" nuclear attack was nominated for four 1964 Academy Awards.

Created during a time when the paranoia of the Cold War was at its peak, the film still seems surprisingly relevant today. Convinced the Commies are polluting America`s "precious bodily fluids," a crazed General (Sterling Hayden) orders a surprise nuclear air strike on the USSR. His aide Captain Mandrake (Peter Sellers) furiously attempts to figure out a recall code to stop the bombing.

Meanwhile, the U.S. President (Sellers again) gets on the hot line to convince the drunken Soviet premier that the impending attack is a silly mistake, while the President`s advisor (and ex-Nazi scientist) Dr. Strangelove (Sellers once more) confirms the existence of the dreaded Doomsday Machine - a new secret Soviet retaliatory device guaranteed to end the human race once and for all!
Special Features:
Interactive Menus
Scene Access
New Documentary: The Art of Stanley Kubrick from Short Films to Strangelove
Inside the Making of Dr. Strangelove
Original Split-Screen Interview with Peter Sellers and George C. Scott
Original Advertising Gallery
Theatrical Trailers
Talent Files
Production Notes

Video Tracks:
Standard 1.33:1

Audio Tracks:
Dolby Digital Mono English
Dolby Digital Mono Spanish
Dolby Digital Mono French
Dolby Digital Mono Portuguese

Subtitle Tracks:
French
Chinese
Korean
English
Spanish
CC: English
Portuguese
Thai

Directed By:
Stanley Kubrick

Written By:
Peter George
Terry Southern
Stanley Kubrick
Peter George

Starring:
James Earl Jones
Peter Bull
Slim Pickens
Keenan Wynn
Sterling Hayden
George C. Scott
Peter Sellers

Soundtrack By:
Laurie Johnson

Director of Photography:
Gilbert Taylor

Editor:
Anthony Harvey

Production Designer:
Ken Adam

Producer:
Victor Lyndon
Stanley Kubrick

Executive Producer:
Leon Minoff

Distributor:
Columbia / Tristar