The Legend of Bruce Lee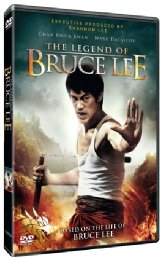 Based on the Life of Bruce Lee
Certificate: TBC
Running Time: 183mins
Retail Price: £14.99
Release Date: 09/01/12
Content Type: Movie
Synopsis:
Revolver Entertainment presents the definitive and tragic story of famed martial arts legend Bruce Lee - the man who made history as the revered martial arts icon of cinema, up to his sudden death at the age of 32. The star and force behind iconic movies 'Fist of Fury' and 'Enter The Dragon', Lee's extraordinary physical skills and dedicated mentality literally catapulted him into global superstardom. It is without question Lee's legacy continues to live on as the world's most celebrated martial arts actor and philosopher. Charting the star's incredible story from his childhood in Hong Kong to his life in the United States including the development and mastering of his martial arts and philosophy, the ?lm depicts his story-book rise to worldwide phenomenon. Although immersed in his career, the film also portrays the person Lee prided in being - a devoted family man. His love for his family both in Hong Kong and for his American wife and their two children was openly evident and his drive for success.

Unsurprisingly, many aspiring and successful actors in the martial arts genre list Lee as their ultimate inspiration, including the stars of the film. With his striking resemblance to Lee, Danny Chan (Shaolin Soccier, Kung Fu Hustle) stars as the title role, with support from some of today's leading martial arts stars including Mark Dacascos (Brotherhood of the Wolf, Cradle 2 The Grave), Michael Jai White (The Dark Knight, Black Dynamite) and Ray Park (X-Men, Star Wars) as Lee's compatriot Chuck Norris.

More than just a Bruce Lee-lookalike, Chan, holds his own in the film's many sparring scenes, bringing a raw physicality to his performance, just as Lee himself always insisted upon in his own projects. As a testament to Lee's influence on the martial arts stars of today's cinema, their working styles and resilience are obvious reflections of Lee's legacy.

Choreographed with extreme precision and executive produced by his daughter Shannon Lee, 'The Legend of Bruce Lee' will undoubtedly live through to the generations to come.
Special Features:
None

Related Websites:
www.revolvergroup.com

Directed By:
Lee Moon Ki

Starring:
Chan Kwok Kwan
Mark Dacascos
Michael Jai White
Ray Park

Executive Producer:
Shannon Lee

Distributor:
Revolver Entertainment